Middle East
Syrian soldiers liberate southern key town of Tafas in Dara'a province: Report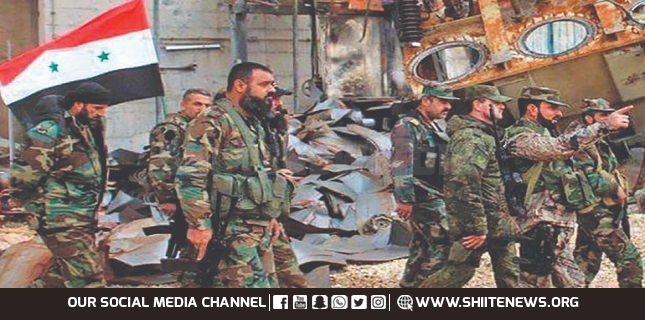 Syrian government forces are now in full control of a strategic town in southwestern province of Dara'a following an intense military operation against foreign-sponsored Takfiri terrorists.
Syria's official news agency SANA, citing an unnamed field commander, reported that Syrian army units entered the town of Tafas, which lies north of the provincial capital city of Dara'a, on Thursday for the first since they lost control of it eight years ago.
The commander said the government troops are trying to restore security and stability in Tafas through cooperation with the locals.
They have already launched an operation to clear the area of hidden explosive devices and ordnance left behind by the militants.
Provincial police commander, Dirar al-Dandal, also said security forces are going to restart their activities in the town within the next few days.
Explosion heard in Syria's southern Quneitra prov.
Separately, an explosion was reportedly heard in Syria's southwestern Quneitra province late on Thursday.
State-run al-Ikhbariyah Syria television news network reported that the blast was heard in the town of Khan Arnabah.
The cause of the explosion remains unclear. No information on casualties or damage followed the report.
Syria has been gripped by foreign-backed militancy since March 2011. The Syrian government says the Israeli regime and its Western and regional allies are aiding Takfiri terrorist groups wreaking havoc in the country.
Syrian government troops and their allies have managed to retake roughly 80 percent of the war-ravaged Arab country's territory from the Takfiri terrorists.
The Syrian army is fighting to capture rest of the territory from the remaining pockets of militants, but presence of US occupation forces and Turkish troops in addition to the European Union's anti-Damascus attempts have slowed down territorial gains.
Israel has been a staunch supporter of the terrorist groups that have violently opposed the government of President Bashar al-Assad.
The Tel Aviv regime frequently targets military positions inside war-ravaged Syria, especially those of the Hezbollah resistance movement that has helped the Syrian army in its fight against te foreign-sponsored Takfiri terrorists.
Israel mostly keeps quiet about the attacks on Syrian territories, which many view as knee-jerk reaction to Syrian government's increasing success in confronting terrorism in Arab country.