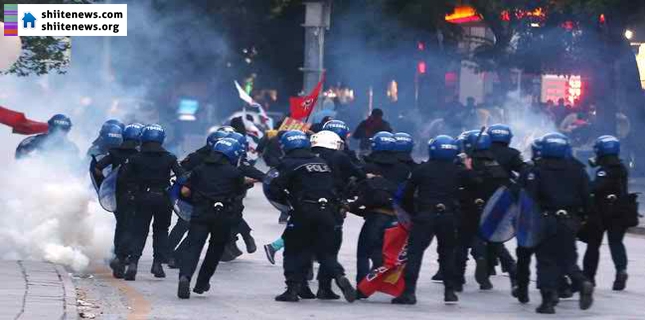 Two police officers were killed and a police chief was seriously wounded in an attack in Turkey's eastern province of Bingol on Thursday, CNN Turk television reported, while clashes elsewhere killed four protesters.
The violence came at a time of growing tensions in Turkey, with local Kurds furious over what they see as government indifference to the situation in neighboring Syria, where ISIS militants have laid siege to the Syrian Kurdish town of Kobani.
Thousands of Kurds have taken to the streets to protest against Ankara's apparent reluctance to help Kobani, which lies on the Turkish-Syrian border and which risks falling into the hands of ISIS militants.
At least 25 people died after demonstrations turned violent earlier this week and Turkish troops and tanks were deployed to restore order. Curfews were imposed in five provinces, measures unseen since the 1990s when the region was rocked by fighting between military and Kurdish militants.
There was brief calm on the streets earlier on Thursday but that was replaced later in the day with gunfire and confrontation across Turkey's east and southeast. Four people were killed and 20 were wounded in the southern border province of Gaziantep, when armed clashes broke out between protesters demonstrating in solidarity with Kobani and groups opposing them.
Turkish police fired tear gas and water cannons to disperse the crowds after demonstrators threw petrol bombs, burnt tires and smashed shop windows. Kurdish anger over Kobani has also revived long-standing grudges between sympathizers of the Kurdistan Workers' Party (PKK) and Turkey's Islamist groups, which appear to be siding with ISIS.
Two buildings used as local branches linked to the Kurdish People's Democratic Party (HDP) in Gaziantep were set on fire, Dogan News Agency reported.
The anger felt by Turkey's Kurds over Ankara's failure to help their brethren in Syria threatens to unravel a fragile peace process that Turkish President Tayyip Erdogan hoped would end a 30-year armed struggle for autonomy by the PKK.
ISIS fighters seized more than a third of the Syrian border town of Kobani on Thursday, as U.S.-led air strikes failed to halt their advance.The Turkish government has signaled it has no plans to unilaterally intervene in the conflict.