Lebonan
Sayyed Nasrallah in a One-on-One Interview with Wikileak's Assange: "Israel" an Illegal State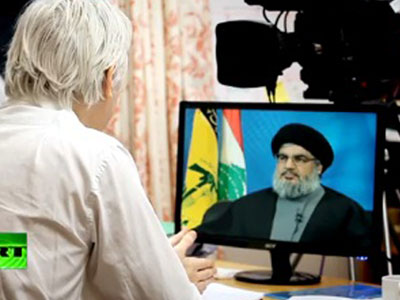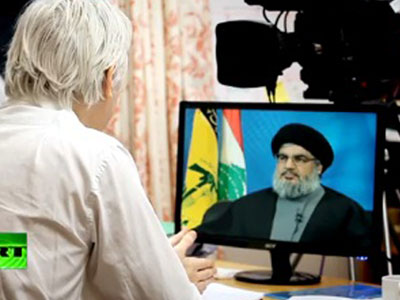 Hizbullah Secretary General His Eminence Sayyed Hassan Nasrallah made a satellite appearance on Tuesday in a one-on-one interview with Wikileaks founder Julian Assange.
The interview was part of the premiere of Assange's program "The World Tomorrow", which is broadcasted on Russia Today (RT), the Russian state satellite channel. Sayyed Nasrallah's identity as the program's premier guest was kept secret until broadcast.
During the brief interview, Sayyed Nasrallah tackled the most important issues on the local, regional, and global arenas.
We Contacted Syrian Opposition Parties Which Rejected Dialogue
On the Syrian level, Sayyed Nasrallah revealed that Hizbullah has contacted some opposition parties, in an attempt to lessen the tension sweeping across the country.
"We contacted some parties of the Syrian opposition to encourage and facilitate dialogue with the regime, yet these parties rejected dialogue [from its roots]," His Eminence stated.
"There is fighting in Syria – when one party retreats, the other will advance, it will go on as long as doors to dialogue are shut," he added in his interview with Assange.
Stressing that Hizbullah supports dialogue, Nasrallah said that without it "civil war is the only alternative." His Eminence said that "this is exactly what the US and "Israel" want… Arab states are ready for tens of years of dialogue with "Israel" but won't have two months to try a political solution in Syria."
Underscoring the resisting Syrian stance in the region, Sayyed Nasrallah noted, "Bashar al-Assad regime is an opposing and resisting regime, and it has stood by the resistance in Lebanon and Palestine."
"What we are calling for in Syria is dialogue, and the acceptance and implementation of reforms," the leader went on to say, further emphasizing that he "sensed great readiness on President Bashar al-Assad's part to conduct radical and important reforms."
"There is an opposition that is not ready for dialogue, and it is even not willing to accept reforms, yet all it seeks is to topple the regime," Hizbulllah Secretary General indicated.
Moreover, His Eminence highlighted Hizbullah's 30 year-old experience, which proves that it is a friend of Syria, and not an agent working for it. He iterated that "today, those who benefited from the Syrian presence in Lebanon are those who are opposing it."
Regretting foreign interferences in Syria, Sayyed Nasrallah said that "there are countries that contribute in money and weaponry, and encourage struggle inside Syria; including Arab and non-Arab countries."
Sole Solution is a One-State Palestine
On the Palestinian level, Hizbullah Secretary General reiterated, "The "Israeli" state is an illegal state, and was established on the basis of occupying other people's lands."
"The only sole solution is to establish one state in Palestine, in which all people; Muslims, Jews, and Christians live in peace," he elaborated.
Hizbullah's True Goal is to Liberate the Land
Also, His Eminence asserted, "Hizbullah is a basic resistance faction to liberate Lebanon."
Referring to the unjust US policies against the resistance, Sayyed Nasrallah pointed out, "If there were a just prosecution at the least, the defendant should be given space to defend himself. We are accused by the US administration, without the right to defend ourselves."
"Liberating the land is our true goal, and this is an indisputable goal among the Lebanese. We entered the Lebanese government in 2005 for the first time, and our goal was not to take part in power, but to protect the resistance […] so that this government would not make any step against it. We avoid all disputes to serve this goal," Sayyed Nasrallah emphasized.
"Until this moment, we are avoiding entering any conflicts with anyone, and our priority remains to liberate our land and protect Lebanon from the "Israeli" threat, because we believe that Lebanon is still in the circle of threat."
Furthermore, His Eminence affirmed, "The matter of resisting the US or other dominating [powers], or resisting the occupation or any aggression against our people and nation, meets with the morals, human values and the law of the heavens and religions, which did not present anything that contradicts with the mind."
Source: RT and Agencies, Translated by moqawama.org