Lebonan
Syed Nasrallah, Hariri Committed to Calm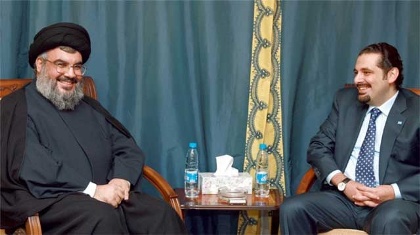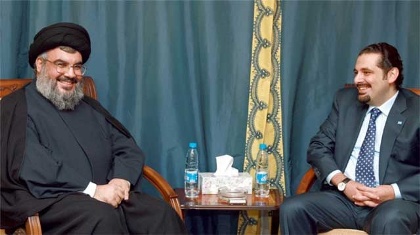 Lebanese daily Al-Akhbar reported on Monday that a visit by Internal Security Forces (ISF) Information Branch head Colonel Wissam al-Hassan to Syria, where he met with former head of Syrian intelligence in Lebanon General Rostom Ghazali, was crucial in changing PM Saad Hariri's positions in less than 24 hours.
In an Iftar speech on Saturday, Hariri said that the political rhetoric following his Friday response to Hezbollah Secretary General Syed Hasan  Nasrallah had escalated to a regrettable level.
Syed Nasrallah had said on Friday that "a knife was put in our wound and then twisted" through political exploitation of the August 24 clashes in Beirut between supporters of Hezbollah and those of al-Ahbash.
That evening, Hariri responded by saying, "I am not the one holding a knife. I hold a pen and a book. I am the son of [former Prime Minister] Rafiq Hariri and I will remain modest."
On his way back from Damascus, Hassan called Hezbollah official Wafiq Safa to reinforce the "logic of calmness," and Hezbollah responded positively hours later when Sayyed Nasrallah's political adviser Hajj Hussein Khalil made a call to Hariri, Al-Akhbar added.
Talking to New TV on Sunday, Transport Minister Ghazi Aridi said that "intense communications regionally and otherwise" have calmed the political situation in Lebanon.
The involvement of "leaders of the first rank in irascible speeches" is unacceptable, Aridi added.
Hariri has chosen the path of calm dialogue and the national interest requires that he and Sayyed Nasrallah stay in touch, he added.
Meanwhile, local media reported Sunday that Syed Nasrallah's political aide had contacted Hariri to thank him on behalf of Sayyed Nasrallah for committing to the calm rhetoric.
Pan-Arab daily al-Hayat also reported that Hezbollah and Hariri's Mustaqbal Movement have vowed to end political bickering.
For his part, Progressive Socialist Party leader MP Walid Jumblatt has expressed relief at the phone conversation between Hariri and Khalil Saturday night. "Thank God they agreed on calm. This is the minimum required," Jumblatt told As-Safir daily in remarks published Monday. "The biggest need is to consolidate calm politically and prevent what happened."
"Maybe that would lead to a regression in the existing tension," he said.
Asked about what role he'd played to bring the views closer, Jumblatt told As Safir: "I don't care about any role. I care about the result … I still call for not only calm rhetoric but also for viewpoints to meet."
Jumblatt met with Hariri at Center House on Sunday night. He was accompanied by Aridi.
The two sides discussed the necessity to arrange a meeting between the Hezbollah Secretary General and the prime minister.
As Safir daily said Jumblatt had hinted to some of his parliamentary bloc members that Syrian President Bashar Assad's interference might be required to hold such a meeting.