Lebonan
Thousands attend Beirut funeral of Ayatollah Fadlallah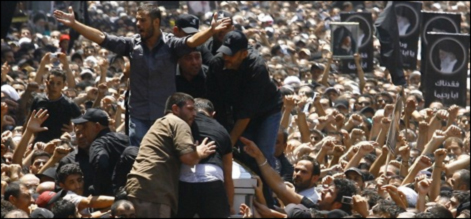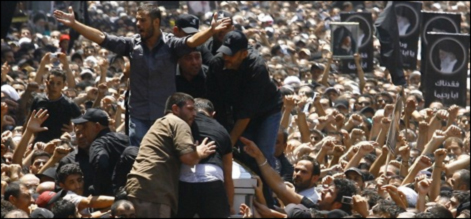 Thousands of people in Beirut were attending the funeral of Lebanon's most eminent Shia cleric, Grand Ayatollah Muhammad Hussein Fadlallah.
A day of national mourning has been declared and a huge crowd has followed the funeral procession in Beirut's southern suburbs.
Tributes have poured in from all over the Arab and Islamic worlds.
The seminaries at Najaf in Iraq, where the ayatollah was born and studied, declared three days of mourning.
The Shia movement Hezbollah, with which the ayatollah's name was strongly linked, especially in its early days, has also declared three days of mourning and called for a massive turnout for the funeral.
The funeral procession was carrying the ayatollah's coffin from his home, through the southern suburbs, to the mosque which he favoured, where he was laid to rest.
There has been no funeral like it in the southern suburbs, a stronghold for Hezbollah, since that of the former Hezbollah leader Abbas al-Musawi, who was killed by the Israelis in 1992, says the BBC's Jim Muir in Beirut.
Top Iraqi leaders, including Prime Minister Nouri al-Maliki, sent their sympathies and messages of praise.
In the late 1950s, Ayatollah Fadlallah helped found Mr Maliki's Daawa party.
Senior Iranian figures have also sent their condolences, including leader of Islamic Revolution Ayatollah Sayyed Ali Khamenei, who said that Ayatollah Fadlallah had always been a patron and supporter of the Islamic resistance in Lebanon – referring to Hezbollah.
The Lebanese government has declared a day of national mourning and flags will be flown at half mast for three days.
Ayatollah Fadlallah, who held the title "sayyed" to indicate claims of direct lineage with the Prophet Mohammed, died at Bahman hospital in Beirut on 4 July after a long illness. He was 74.
He was a fierce critic of the United States and Israel, advocating suicide attacks as a means of fighting Israel.
He was branded a terrorist by the US, and named on a 1995 blacklist.