Lebonan
Sheikh Qassem: 2006 Victory Was Beginning of Israel's Collapse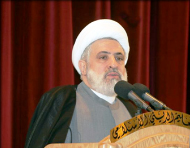 Hezbollah Deputy Secretary General Sheikh Naeem Qassem stressed that Lebanon's strength lies in its army, people, and Resistance.
Speaking during a religious ceremony at Al-Zehra hall in Beirut's southern suburb, Sheikh Qassem said that this strength is important because Israel is an aggressor entity and is constantly thinking of war, which means that the people, army, and people have to be in constant readiness to confront it.
 
"Stability in Lebanon and the existence of a power that protects it are complementary because Israel will think twice before attacking the country and therefore political stability in Lebanon owes itself to the Resistance," Sheikh Qassem stressed.
 
He pointed out that a weak Lebanon is an "open ground for foreign countries," while a strong Lebanon is not an open arena for anyone.
 
Sheikh Qassem said that the liberation of southern Lebanon in 2000 was the first step in putting an end to Israel's expansionist plans in the region, noting that Hezbollah's victory in the July 2006 war "was the beginning of the countdown to Israel's collapse." The more Israel is weakened, the stronger the Resistance will become, his eminence continued.
 
"The new equation after the 2006 victory is targeting Israel's deterrent power ahead of its eventual collapse at any moment it commits a mistake."