Lebonan
S. Nasrallah: Hezbollah among most effective forces fighting terror in Mideast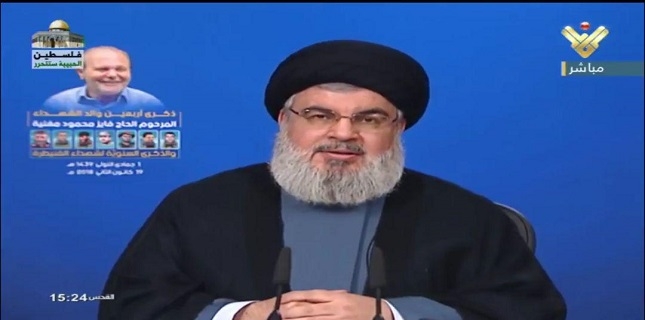 The secretary general of the Lebanese Hezbollah resistance movement has described his group as one of the most effective forces in the fight against terrorism across the Middle East region.
Speaking at a ceremony marking the martyrdom anniversary of Hezbollah fighters in Syria's southwestern Quneitra region on Friday afternoon, Sayyed Hassan Nasrallah stated that the sacrifices made by Hezbollah martyrs were behind all victories over US-Israeli plots in the region.
He noted that the United States has long sought to designate Hezbollah as a terrorist outfit, and has even leveled unsubstantiated allegations of involvement in drug trafficking against the resistance movement.
Nasrallah then advised US statesmen to launch a full-scale investigation into the drug-related activities of their own intelligence bodies.
Elsewhere in his remarks, the Hezbollah chief underlined that his movement supports the Lebanese government and military in the face of threats being posed by Israel at border positions.
Nasrallah also warned the Tel Aviv regime against any provocative move on the border between Lebanon and the occupied Palestinian territories, condemning efforts aimed at normalization of diplomatic relations with Israel.
"The Lebanese government and the Arab League have both censured attempts meant to normalize ties with the Zionist regime (of Israel)," he pointed out.
Turning to the car bomb explosion in the southern Lebanese city of Sidon that slightly wounded a member of Palestinian Hamas resistance movement, Nasrallah said "it is the beginning of a dangerous Zionist scheme to undermine the country's security."
"The United States plans to keep its military deployment in Iraq and Syria under the pretext of preventing the return of the terrorists. This is while the entire world knows it was the US administration that created the Takfiri group," Nasrallah also commented.
He said, "Iraqis and Syrians can well prevent the resurgence of Daesh, and do not need US help in this regard."
The Hezbollah secretary general also denounced US President Donald Trump's use of "Islamic terrorism," stating that such a terminology clearly proves his animosity toward Prophet Muhammad (PBUH), Islam and Muslims.