Lebonan
Lebanon fully liberated from Daesh terrorists: Sayyed Hassan Nasrallah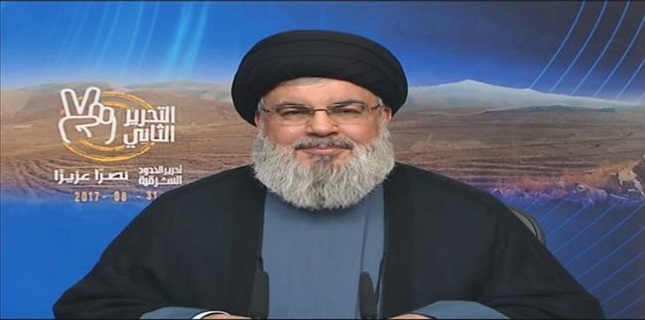 The secretary general of the Lebanese Hezbollah resistance movement has praised the victories recently achieved by the movement's fighters and army soldiers in the fight against Daesh Takfiri terrorists, stressing Lebanon's soil has been fully liberated from the extremist elements.
"We wanted the conclusion of this battle to come at the hands of the Lebanese Army and this is what happened, and the so-called caliphate of Daesh was defeated," Sayyed Hassan Nasrallah said in an address in Beirut on Thursday.
Addressing his followers via a televised speech, Nasrallah described the gains against the terrorists as the second liberation after the withdrawal of Israeli military forces from southern Lebanon and Western Bekaa region in 2000.
He stated that Lebanese army soldiers have made gains against terrorists, underlying that Hezbollah resistance fighters have driven members of the foreign-sponsored and Takfiri Jabhat Fateh al-Sham terrorist group from Juroud Arsal region, located 124 kilometers northeast of Beirut.
The Hezbollah leader pointed out that the United States had threatened to cut its assistance to the Lebanese army in case it did not put an end to its campaign against terrorists on the border with Syria.
Nasrallah then called upon Lebanese authorities to devise a plan aimed at the liberation of Sheba'a Farms from Daesh Takfiris, hailing Syrian army soldiers for helping their Lebanese counterparts liberate the strategic and mountainous region of Qalamoun.
Nasrallah stated that he had a meeting in person with President Bashar al-Assad in the Syrian capital city of Damascus, and convinced him to agree to a deal between Hezbollah and Daesh, which allowed the transfer of Takfiri terrorists from Qalamoun to eastern Syria.
Elsewhere in his remarks, the Hezbollah chief offered his sincere felicitations to the Iraqi nation and government on the liberation of the city of Tal Afar and the northern province of Nineveh from Daesh terrorists.
Earlier on Thursday, Iraq's Prime Minister Haider al-Abadi said the city of Tal Afar and the entire Nineveh province had been purged of the Daesh Takfiri terrorist group.
The recapture of Tal Afar was made possible with the help of the Iraqi army, Federal Police, counterterrorism units, volunteer troops, and Rapid Response Forces, Abadi said.
Elsewhere in his remarks, Nasrallah praised the Islamic Republic of Iran for its unwavering support for the anti-Israel resistance front, stressing that Tehran had offered great assistance to the Lebanese, Syrian, Iraqi and Yemeni nations.
"Israel is crying over the fate of its orphans (Daesh terrorists)," Nasarallah said, noting that the Tel Aviv regime had admitted that its plans in Syria had not succeeded.
The Hezbollah chief also described the United States as the real threat to the international community, warning that the policies of the administration of President Donald Trump vis-à-vis North Korea were steering the world towards a nuclear war.