Lebonan
Lebanon's Hariri may back Michel Aoun for president: Report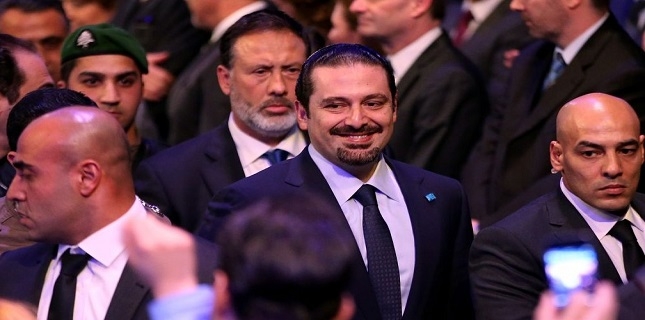 Lebanon's former Prime Minister Saad Hariri is likely to support the candidacy of Michel Aoun for the presidency post, which has been vacant since 2014, a report says.
Lebanon's al-Akhbar news website said on Wednesday that Hariri, the chairman of the Future Movement, had informed his bloc, allies and Suleiman Tony Frangieh, the leader of the Marada Movement, and another candidate for president, about his decision that was yet to be announced.
According to the report, Hariri was supposed to declare his decision on Wednesday but the announcement had been delayed as it coincided with the fourth anniversary of the assassination of General Wissam al-Hassan, the intelligence chief of Lebanon's Internal Security Forces.
A senior political source said the decision would be announced "within the coming few days."
Fouad Siniora, the head of the Future Movement's parliamentary bloc, said in an interview with the Daily Star newspaper that Hariri had told lawmakers that he had decided to back Aoun, but stressed that there was "no final decsision yet on this matter."
Some Lebanese political sources said if Aoun was elected as president, Hariri would be appointed as prime minister for the second time.
Lebanon has been without a head of state since 2014, when the term of President Michel Suleiman expired.
The Lebanese parliament has repeatedly failed to elect a president due to the lack of quorum. The presidential election has been put off until the end of October.
Under Lebanon's power-sharing system, the president must be a Christian, the prime minister a Sunni Muslim and the parliament speaker a Shia Muslim.
Lebanon's resistance movement Hezbollah has accused Saudi Arabia of thwarting political initiatives and blocking the election of a president in Lebanon.
Late last year, Hariri, who is a close ally of Saudi Arabia, launched an initiative to nominate Frangieh. His proposal, however, failed amid reservations on the part of Lebanon's main Christian parties as well as Hezbollah.
In a televised news conference on January 18, Samir Geagea, the leader of the Lebanese Forces political party, said he would endorse the candidacy of Aoun, his rival and the founder of the Free Patriotic Movement, for the presidency after a rapprochement deal was reached between their two parties.