Lebonan
Hezbollah warns Lebanon could further slide into chaos if government formation delayed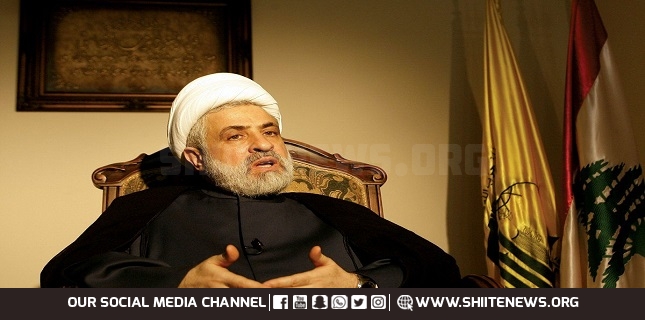 A high-ranking official from the Lebanese Hezbollah resistance movement has warned that the crisis-rocked Arab country could further descend into chaos and complete collapse unless a new government is formed.
"President [Michel Aoun]'s term will end within the next four months, and we have the opportunity to draw up a plan and improve status quo in the country by then. We should pass a number of parliamentary bills, sign a detailed memorandum with the International Monetary Fund (IMF), address social issues and resolve Lebanon's ongoing electricity crisis. Even if such measures constitute the first step for solving the existing problems, it would be much better than remaining without a government and staying in the dark," Hezbollah Deputy Secretary General Sheikh Naim Qassem said.
He added, "The line-up of the new parliament was a matter of people's election. No one should differentiate between lawmakers as they are obligated to serve the entire nation irrespective of the political faction they are affiliated to."
"Everyone should outline his plans aimed at resolution of power crisis, dollar shortage, dismissals and appointments. They should stop making complaints and provoking divisions among people. Such complaints will not offer a solution… A government cannot be formed unless through popular cooperation," Sheikh Qassem pointed out.
The senior Hezbollah official then addressed those who don't want to cooperate with the next Lebanese government, saying, "Do you want a one-party state? Will the country succeed with such a system? Even if you manage to form a one-party government, the solution is still to alleviate the suffering of people in the first place."
On May 31, Lebanese lawmakers re-elected Nabih Berri as the country's parliament speaker for a seventh consecutive term after his candidature went largely unchallenged.
The 84-year-old veteran politician and one of the longest-serving parliament chiefs in the world secured 65 votes in the 128-member body.
His re-election came as lawmakers took office after a parliamentary vote on May 15.
Hezbollah and its allies hold sway in the new parliament despite their enemies' attempts to undermine the political power and popularity of the resistance movement in the recent parliamentary elections.
Berri's Amal Movement and Hezbollah hold all 27 Shia-allocated seats in parliament but are short of the majority.
Since late 2019, Lebanon has been mired in a deep financial crisis that has caused the Lebanese pound to lose around 90 percent of its value to the US dollar and led its banking system to collapse, plunging the bulk of Lebanese into poverty.
The economic and financial crisis is mostly linked to the sanctions that the United States and its allies have imposed on Lebanon and foreign intervention in the Arab nation's domestic affairs.