Lebonan
US seeks to keep Lebanese people starving: Nasrallah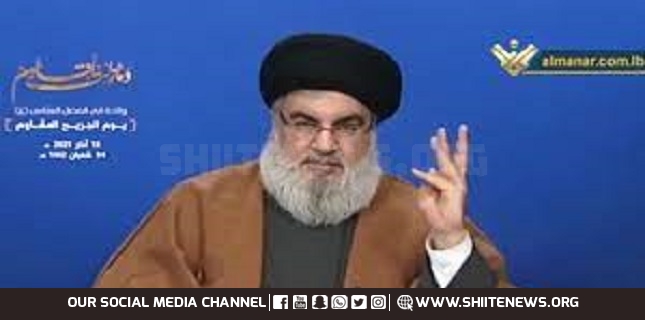 Hezbollah Secretary General Seyyed Hassan Nasrallah says the US seeks to starve the Lebanese people, while harshly criticizing the certain Arab states for normalizing ties with Israeli regime.
Hezbollah Secretary General Seyyed Hassan Nasrallah made the remarks on Friday afternoon during an election ceremony held by by Hezbollah in Bekaa, Al-Manar reported.
Nasrallah praised Bekaa residents for their wide participation in Hezbollah electoral ceremonies and said "Unlike plotters, I am not surprised by the high paricipation."
He denounced the Israeli crime which killed Palestinian journalist Shireen Abu Akleh in Jenin.
"Shireen Abu Akleh had been for years a witness for Israeli crimes against Palestinian people," he said, "The first to be ashamed by this crime are all those who call for normalization of ties with Zionist entity."
"The powerful message behind Shireen Abu Akleh's martyrdom is that she is a christian," the Hezbollah chief also said, adding that "The Israeli enemy doesn't distinguish between a Muslim and a Christian in Palestine."
Nasrallah offers condolences for families of martyrs who fell in the terrorist attack in Syria's Aleppo countryside in a terrorist attack on a military bus.
updating..