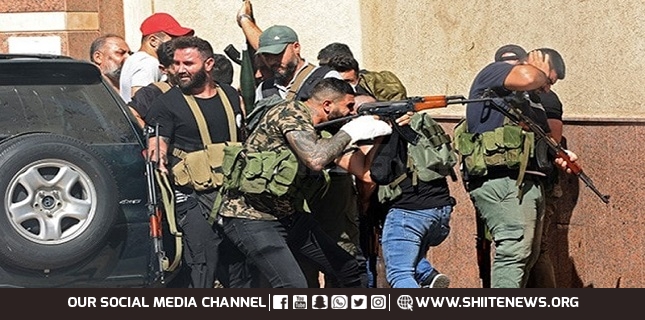 Hezbollah and Amal Movement accused groups affiliated to the Lebanese Forces party of standing behind the armed attack on protesters heading to the Justice Palace in Tayouneh on Thursday.
"Within the frame of civilized and peaceful expression of a clear political position from the course of the investigation into the port crime, we organized today a symbolic demonstration outside the Justice Palace in Beirut, where participants were subject to an armed attack by groups from the Lebanese Forces Party that deployed in neighboring streets and on rooftops, and engaged in direct sniping activity and intentional killing," Hezbollah and Amal said in a joint statement.
At least six people were killed and over 60 others injured in the Beirut demonstration from snipers' gunfire directed at people taking part in the march to protest the measures taken by judge Tariq Bitar, investigating the August 2020 Beirut Port blast last year.
August 2020 Beirut Port blast leftover 200 dead and thousands injured and deepened Lebanon's severe political and financial crisis.
Bitar, the judicial investigator into the Beirut Port blast, was accused of partiality by multiple parties.
The protest against Judge Tarek Bitar took place on Thursday at the Beirut Justice Palace, located between Muslim Shiite and Christian areas. And the shooting reportedly came from a nearby Christian neighborhood.
The protest came hours after a Lebanese court declined to remove Bitar from the case in response to a lawsuit alleging bias.
In response, the Commandos Regiment of the Lebanese Army had reinforced its deployment in the Tayouneh area to contain the situation.
Earlier on Wednesday, Hezbollah and Amal movement called on supporters to rally near the Justice Palace to call for non-politicization of the probe into the Beirut Port blast.
Hezbollah Secretary General Sayyed Nasrallah slammed Judge Tarek Bitar's judicial investigator, accusing him of bias and politicizing the probe.
Sayyed Nasrallah stressed that Hezbollah is keen to reveal the truth in the Beirut Port blast case but noted that the judicial investigator should take the unbiased judicial course, away from politicization.