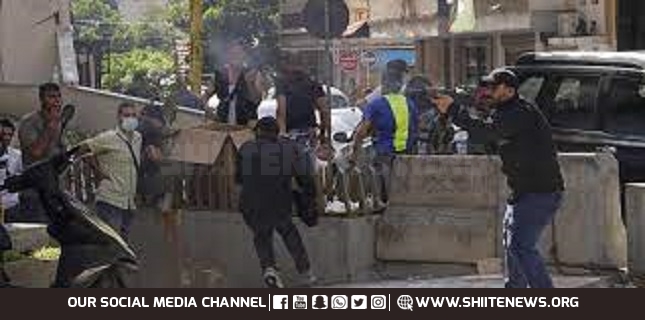 Several Lebanese people were martyred or injured on Thursday as snipers attacked demonstrators who gathered near Justice Palace in Beirut's Tayouneh-Badaro area to protest against politicization of investigation into Beirut Port blast.
Al-Manar correspondent reported that at least six people were martyred after being targeted by snipers who were stationed on the roofs of the neighboring buildings.
At least 13 others were injured by the shooting, our correspondent said, adding that the victims included a woman who was martyred after being hit by a bullet in the head while being in her house.
Media reports said that snipers are militants affiliated with Lebanese Forces Party.
Meanwhile, Lebanese Army issued a statement in which it said that a group of demonstrators came under fire attack in Tayouneh-Badaro area. The Lebanese Army warned that its units will fire at any militant in the region, according to the statement.
For his part, National News Agency (NNA) reported that Lebanese President Michel Aoun was in contact with several officials in a bid to follow up on the latest developments in the country.
President Aoun followed up on the developments with Prime Minister Najib Mikati and ministers of defense and interior, as well as with army chief, NNA noted.
Earlier on Wednesday, Hezbollah and Amal movement called on supporters to stage a rally near the Justice Palace to call for non-politicization of the probe into Beirut Port blast.
Hezbollah Secretary General Sayyed Nasrallah slammed the judicial investigator Judge Tarek Bitar, accusing him of bias and politicizing the probe.
Sayyed Nasrallah stressed that Hezbollah is keen to reveal the truth in the Beirut Port blast case, but noted that the judicial investigator should take the unbiased judicial course, away from politicization.