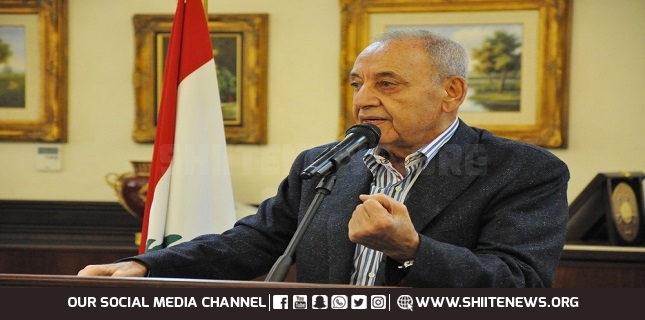 Parliament Speaker Nabih Berri indicated in a televised speech on the 43rd anniversary of the disappearance of Imam Moussa al-Sadr and his two companions that "words can no longer answer the troubling questions of all the Lebanese about the fate of their country, their regime, their civil peace, their political stability, and their strength in the face of the Zionist danger."
He pointed out that "the Libyan authorities did not cooperate enough to assist the Lebanese judiciary in completing the investigations into the case of Imam Al-Sadr," noting that "the outbreak of Corona and the military developments in Libya did impede the work of the investigator and the official follow-up committee."
"We reiterate our full confidence in the Lebanese judiciary, and the work of the investigator and his impartiality. We also call upon the concerned authorities to protect him from any pressure or threat, so he can get to the truth," Speaker Berri went on to say, in reference to Al-Sadr's vanishing.
The Speaker also asked for "justice and fair retribution for the crime of the port explosion", saying: "We were the first to extend a helping hand to the families of the martyrs, and we affirmed that there is no immunity that covers any person involved. Immunity is only for the judiciary, the martyrs, and justice."
"We have cooperated and will cooperate with the judiciary to the utmost. We never said we are against lifting immunities; all we asked for is the application of the law and the constitution, but unfortunately there are those in Lebanon who are used to investing in just causes for cheap electoral goals and perhaps in implementation of suspicious agendas," he went on.
"The path to the truth is well paved; it lies in revealing who brought in the ship, to whom the nitrate cargo belongs, and who was allowed to store it for so long."
"The judicial investigator is required to implement the laws, starting with the Constitution," Speaker Berri added.
He called for an immediate initiative to put aside differences and speed up the formation of a government with its priority to liberate the Lebanese from the queues of humiliation and activate the work of the judiciary and the security and control agencies to combat corruption and black market dealers, and hold parliamentary elections on time.
Commenting on the Iranian fuel ship, the House Speaker stressed that Amal Movement has always welcomed the various kinds of aids from the friendly countries, especially Syria and Iran.