Lebonan
Sheikh Qassem: Normalization of ties with Israel treason to Quds, Palestine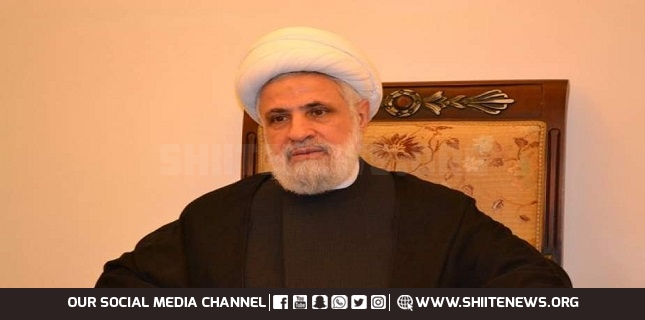 Hezbollah Deputy Secretary General Sheikh Naeem Qassem denounced the moves by some Arab countries toward normalization of ties with Israel, describing it as treason to the holy Quds and the Palestinian people.
Addressing a video-conference meeting titled "Strategies to Annihilate the Zionist Regime" on Monday, Sheikh Qassem said normalizations only serves the interests of the Zionist regime and is to the detriment of the Palestinians.
It is a trump card in the hands of the Tel Aviv regime to put more pressure on the people of Palestinian and violate their rights even more, he deplored.
The UAE and others who sign deals to normalize ties with Israel will gain nothing but shame and disgrace, the Hezbollah official said.
He further highlighted the victories of the resistance front, including Lebanon, Palestine, Iraq and Yemen, stressing the need for maintaining and enhancing unity against enemies.
Last week, Bahrain joined the United Arab Emirates in striking an agreement to normalize relations with Israel.
In a joint statement on September 11, the United States, Bahrain and Israel said the agreement to establish ties was reached after Trump spoke with Israeli Prime Minister Benjamin Netanyahu and Bahraini King Hamad bin Isa Al Khalifa.
The deal came one month after the UAE and the Tel Aviv regime agreed to normalize ties under a US-brokered accord.
Bahrain will join Israel and the UAE for a signing ceremony at the White House hosted by Trump on September 15. The Israel-UAE ceremony will be attended by Netanyahu and Emirati Foreign Minister Sheikh Abdullah bin Zayed Al Nahyan.
Following the announcement of the Israeli-Bahraini normalization deal, Palestine recalled its ambassador to Manama for consultations, according to the Palestinian Ministry of Foreign Affairs and Expatriates.