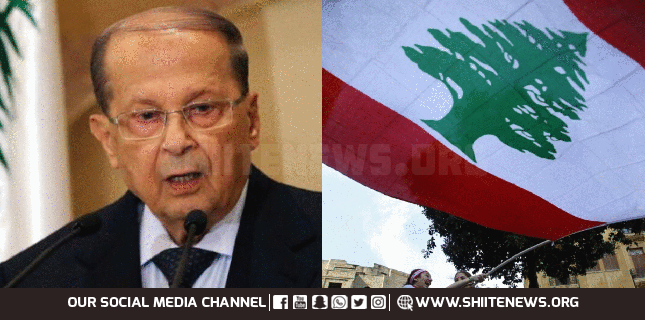 President Aoun again invites Lebanese protesters for dialgoue. Lebanese President Michel Aoun made this offer while addressing the nation in a televised speech marking the country's 76th Independence Day on Thursday.
President Aoun again invites
He urged protesters to send representatives to the presidential palace in Baabda, east of Beirut, for talks.
Dialogue only way
The Lebanese president noted that he wants to "closely explore their actual demands and means to implement them." He stresse that "dialogue is the only correct way to resolve crises."
Aoun then blamed "contradictions that control politics" for his failure to call for binding parliamentary consultations to name a new prime minister.
Time not for speeches
"The time is not for speeches but rather for hard work… The challenges are dangerous and we've wasted a lot of time.
"The government should have been formed by now and started its work. But, the contradictions that govern Lebanese politics have necessitated carefulness in order to avoid a more dangerous situation," the 84-year-old president added.
President eyes efficient govt
The next Lebanese government must be "efficient, productive and methodical," Aoun said.
"The recent popular protests have broken some taboos and relatively some protections, prompting the judiciary to act and encouraging the legislature to give priority to a number of anti-corruption draft laws.
President backs judiciary
"I will be a firm bulwark that protects the judiciary and by that I mean that I will prevent any interference in it," the Lebanese president pointed out.
Michel Aoun to Lebanese troops
Aoun also called on troops to protect the people's freedom of expression and at the same time ensure freedom of transportation.
Backgrounder
Back on November 4, Aoun said that there is a need for dialogue with demonstrators in order to come to an understanding on the issues at hand.
The Lebanese Presidency, in a post published on its official Twitter page, cited Aoun as saying to the United Nations Special Coordinator for Lebanon Jan Kubis that one of the first tasks of the new government will be to follow up the anti-corruption. And also and carry out an investigation process that will include all officials in departments at different levels.
Must read:
Even government resignation fails to stop Lebanon protests
Lebanon protests put external actors to test instead of Hizbullah