Lebonan
Iran heart of resistance camp and Khamenei is Hussein of this era: Nasrallah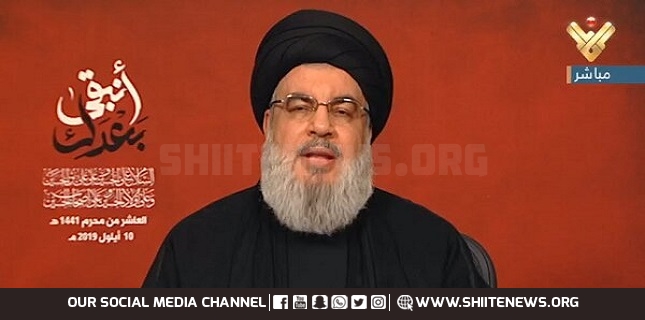 The head of Lebanon's resistance movement hails Iran as "the center" of a "major camp" against the US and Israel headed by Leader of the Islamic Revolution Ayatollah Seyyed Ali Khamenei, Khamenei is Hussein of this era saying the resistance front is now in the middle of a campaign against the two enemies.
Nasrallah made the remarks in speech on Monday, the eve of Ashura, which marks the martyrdom anniversary of Imam Hussein. Imam Hussain (PBUH) is the third Shia Imam and the grandson of Prophet Mohammad (PBUH).
Nasrallah emphasized that Hezbollah and its allies, including Iran, were in "the midst of a major campaign," which has seen Washington and Tel Aviv attempting to impose a siege on the resistance front, the website of the Lebanese al-Manar TV cited him as saying.
"Today, the US, Israel, and their tools are trying to besiege our camp. The leader of this camp is Imam Ali Khamenei and the center of this camp is Iran," he said.
"This is our camp, and this is our Imam, our leader, and Hussein of this era. In this battle, there is no place for neutrality. You are either with Hussein or you are with Yazid. The battle is renewed and so is the confrontation," he added.
Nasrallah was referring to the Battle of Karbala in southern Iraq in 680 AD, during which Imam Hussein was martyred along with his 72 companions after fighting courageously for justice against thousands of soldiers of the Umayyad caliph, Yazid I.
The battle symbolizes the eternal and unwavering stance of truth against falsehood and humanity's struggle against injustice, tyranny and oppression.
Israeli, American leaders will fail in their plots to undermine the resistance front through "blockades" and "sanctions", he said.
"Tonight and tomorrow, we will tell [Israeli Prime Minister Benjamin] Netanyahu and [US President Donald] Trump that we are a people not affected by blockades, sanctions, poverty and hunger," he said.
-Khamenei is Hussein of this era