Iraq
Iraqi Intelligence: Army foiled the plot of regroup and killed several Daesh terrorists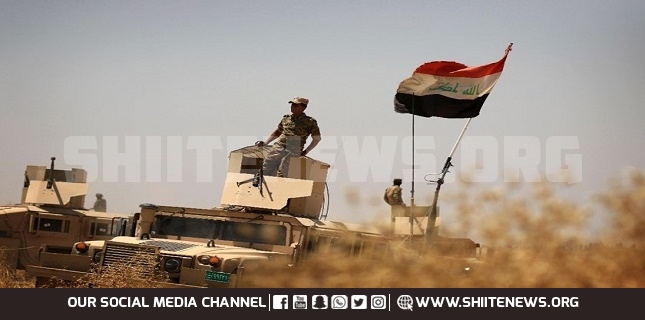 Iraqi government forces have thwarted an attempt by remnants of the terrorist group of Daesh to regroup in the country's northern province of Nineveh, killing a number of the extremists, including a high-profile commander, in the process.
The Iraqi Interior Ministry's Chief of Intelligence, Abu Ali al-Basri, told state-run Arabic-language al-Sabaah daily newspaper that the country's elite counter-terrorism intelligence unit, known as the Falcons, had foiled the plot and killed several Daesh terrorists, who had infiltrated from neighboring Syria.
"The operation came after several months of tracking Daesh militants by the intelligence team and their sources as part of their joint efforts to eliminate the infiltrated Daesh militants from Syria," Basri added.
The senior Iraqi official noted that the Falcons also killed a senior Daesh commander, identified as Abdul Ghafour Abdullah Karmoush but better known by the nom de guerre Wahid Amniyah. He was purportedly the leader of the terrorist group in Iraq's northern Jazira region, and responsible for killing dozens of people in the strategic cities of Mosul and Tal Afar.
He said Karmoush was killed in an ambush by the 15th Division of the Iraqi Army and pro-government voluntary forces, commonly known by the Arabic name Hashd al-Sha'abi. One of his aides detonated his explosives during the gun battle.
Speaking at a joint press conference with German Chancellor Angela Merkel in Berlin on April 30, Iraqi Prime Minister Adel Abdul Mahdi warned that even though Daesh had been militarily weakened, it had not been defeated and remained a potent threat across the world.
"Daesh is not just a small organization, it's widespread and will try to put confidence back in its militants and carry out acts such as those in Sri Lanka," Abdul Mahdi said.
A series of coordinated bombings on Easter Sunday rocked Sri Lanka, killing at least 253 people and wounding 500 others.
The attacks targeted three churches as well as four hotels in the capital Colombo.
Daesh later claimed responsibility for the bomb attacks. "The perpetrators of the attack that targeted nationals of the countries of the coalitions and Christians in Sri Lanka before yesterday are fighters from Daesh," the terror group said in a bulletin posted by its Aamaq news agency.
The former Iraqi prime minister, Haider al-Abadi, declared the end of military operations against Daesh in the country on December 9, 2017.
On July 10 that year, he had formally declared victory over Daesh in the strategic northern city of Mosul, which served as the terrorists' main urban stronghold in Iraq.
In the run-up to Mosul's liberation, Iraqi army soldiers and Hashd al-Sha'abi fighters had made sweeping gains against Daesh.