Iraq
Iraqi security forces uncover two Izadi mass graves in Sinjar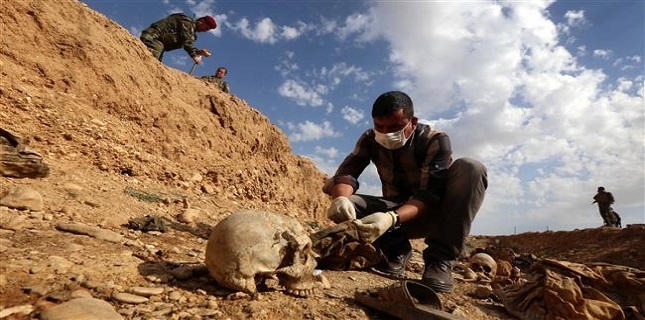 Iraqi security forces have found two mass graves in the country's northern province of Nineveh, which contain the bodies of roughly a hundred members of the Izadi minority group believed to have been executed by Daesh Takfiri terrorists.
A local source, speaking on condition of anonymity, said government troops, supported by fighters from the Popular Mobilization Units, commonly known by the Arabic name Hashd al-Sha'abi, unearthed the mass graves in the town of Sinjar, situated over 400 kilometers northwest of the capital Baghdad, on Saturday morning. The graves contained the bodies of 90 people, Arabic-language al-Ghad Press news agency reported.
The victims apparently came from the nearby villages of Mujamma al-Jazirah and al-Qabousiyah.
The grisly findings were made only three days after a mass grave containing the remains of at least 50 people was found in Sinjar.
On November 27, Iraqi army forces uncovered an Izadi mass grave in al-Ba'aj town, which was under control of Daesh until June this year. It contained the bodies of 98 people.
A week earlier, government forces had found a mass grave containing the bodies of 73 people, including women and children, executed by Daesh in Rambussi area near the town of Qahtaniyah, located about 100 kilometers from Mosul.
Back in August 2014, Daesh overran Sinjar, killing, raping, and enslaving large numbers of Izadi Kurds.
Sinjar was recaptured in November 2015, during an operation by Kurdish Peshmerga forces and Izadi fighters.
The Office of Kidnapped Affairs in the northern Iraqi city of Dohuk said earlier this year that around 3,500 Izadi Kurds were still being held captive by Daesh, adding that a large proportion of the abductees were women and children.
The Endowments and Religious Affairs Ministry of the semi-autonomous Kurdistan Regional Government announced in early August that Daesh's genocide against Izadis had forced nearly 360,000 members of the minority group to flee their hometowns, and that another 90,000 had left Iraq and taken refuge in other countries.
It added that Daesh terrorists had kidnapped 6,417 Izadi Kurds, including 1,102 women and 1,655 children, since 2014.