Iraq
Iraqis mourn victims of deadly Baghdad bombings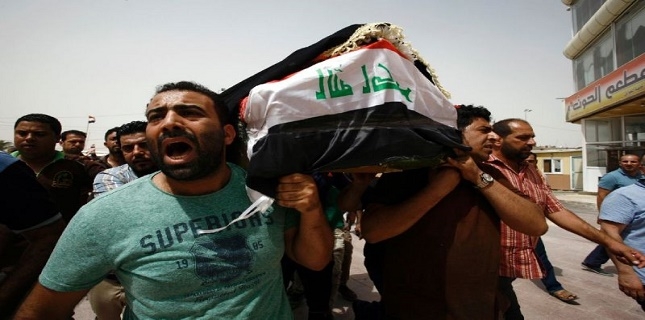 Hundreds of Iraqis have held a vigil of prayers for the victims of the two deadly car bombing attacks in the Iraqi capital, Baghdad, over the weekend, which left more than 200 people dead.
The participants, lighting candles, converged on the streets of Baghdad's shopping area of Karrada after breaking their dawn-to-dusk fast for the holy Muslim month of Ramadan to pray for the deceased.
"We are very sad about what happened to the victims, the innocent people. Unfortunately, this disaster happened on Laylat al-Qadr (Night of Destiny). I don't know what to say. It's a tragedy. It's an ugly act and everyone is marking Eid with sadness," local resident Haider Falih said, referring to the upcoming Eid al-Fitr, which marks the end of Ramadan.
"Is this Eid? Every Eid we jubilate. Is this our Eid? Is this our Eid? Is this our Eid that everybody celebrates? Is this the Eid we should celebrate? People came to buy clothes to celebrate Eid. Now they are buying coffins, they're buying coffins. May God punish those who are responsible," Ali Mohammed, another local resident, said as he cried.
Police and medical sources said at least 200 people lost their lives and 185 others sustained injuries in the twin attacks early on Sunday.
The first attack occurred at about 1 a.m. local time (2200 GMT Saturday) when a bomber detonated his refrigerator truck packed with explosives in the capital's south-central neighborhood of Karada.
The area was busy at the time, as people were eating out and shopping late at night for the Eid al-Fitr.
At least four buildings were severely damaged or partly collapsed, including a shopping mall that is thought to have been the main target of the bombing. Burnt-out shells of a lot of vehicles parked in the area were scattered all around.
Shortly afterwards, a roadside bomb explosion ripped through the Shallal market in Shaab neighborhood of northern Baghdad.
The Takfiri Daesh terrorist group later claimed responsibility for the attacks, which it said were aimed at Shia neighborhoods of the Iraqi capital.
The United Nations Assistance Mission for Iraq says a total of 662 Iraqis were killed and another 1,457 wounded in acts of terrorism, violence and armed conflict in June.
The northern and western parts of Iraq have been plagued by gruesome violence ever since Daesh terrorists started a large-scale campaign of terror in the country in June 2014.
Iraqi government forces, backed by fighters from Popular Mobilization units, have been fighting the militants.