Iraq
300 ISIL Militants Killed in West of Ramadi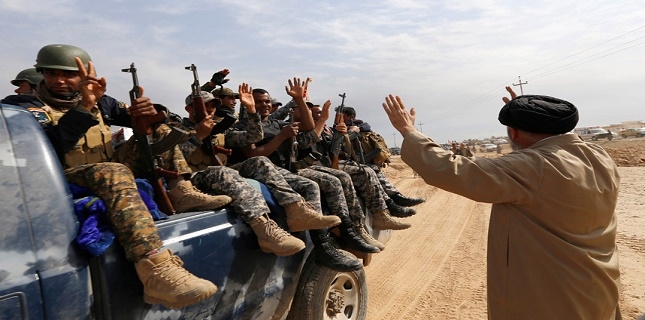 At least 300 members of the ISIL Takfiri terrorist group were killed in the Iraqi army's ground operations and airstrikes in the Western parts of Ramadi, the capital city of al-Anbar province.
"Supported by the air force, the army carried out operations in the Western parts of Ramadi which killed 300 terrorists and destroyed 50 of their vehicles," Qassim al-Mohammadi, an Iraqi commander, was quoted as saying by Sumaria news on Thursday.
He said that the terrorists had plotted to infiltrate into Qaem city at the Iraqi-Syrian bordering areas from Wadi al-Qazaf region but failed due to the army's swift reaction.
Ismail al-Mahlawi, the commander of al-Anbar operations, also announced on Wednesday that the army had destroyed 450 ISIL vehicles in the Southwestern parts of Fallujah.
Iraqi security personnel, backed by pro-government fighters from Popular Mobilization Units and tribal fighters, managed to repel a massive offensive by members of the Takfiri ISIL terrorist group in the country's beleaguered Western province of al-Anbar on Wednesday.
Major General Hadi Razij, the provincial police chief, told al-Sumaria television network that security forces and Lawa al-Amiriyah al-Samoud tribesmen, receiving support by Iraqi fighter jets and artillery units, repelled a ISIL onslaught on the town of Amiriyah Fallujah, located about 30 kilometers (18.6 miles) south of Fallujah.
He added that 450 vehicles of the extremists were also destroyed in the battle.
Separately, Khamis al-Issawi, a Lawa al-Amiriyah al-Samoud tribal leader, said his fighters and security forces had destroyed a ISIL base on the fringes of Amiriyah Fallujah, noting that three tribesmen had been killed and six others injured during the clashes with ISIL militants.
The Northern and Western parts of Iraq have been plagued by gruesome violence ever since ISIL terrorists mounted an offensive in the country in June 2014.
Iraqi government forces, backed by fighters from allied Popular Mobilization Units, have been pushing the militants out of the country's territory.
Iraqi forces liberated Fallujah on June 17.
On Tuesday, elite counter-terrorism forces and their allies wrested control over Telol al-Baj area, which lies on the highway linking the town of al-Shirqat, situated about 250 kilometers (155 miles) north of the capital, Baghdad, to the southern part of Mosul.
"Security personnel have liberated Telol al-Baj, and several units have been deployed four kilometers (2.4 miles) away from the area to prevent the infiltration of vehicles rigged with explosives into the region," Lieutenant General Abdul Ghani al-Assadi, commander of Iraq's counterterrorism forces, said.
He said Iraqi forces had inflicted heavy losses on the ranks of ISIL terrorists in Telol al-Baj.