Iraq
Iraqi Forces Shoot Down Another ISIL Drone in Samarra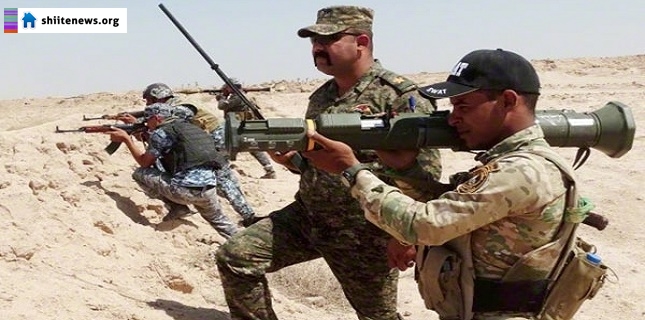 Iraq's popular forces shot down a drone used by the ISIL terrorists in the the holy city of Samarra.
Saraya al-Salam popular forces brought down a drone used by the ISIL in the West of al-Hawesh in the holy city of Samarra, sources said.
On Monday, parliamentary sources in Iraq said that the Turkish army retreated troops from Northern Iraq early in the day.
Reports said on Monday that the Turkish military began their withdrawal from Iraq's territory at 5 in the morning.
Member of the Iraqi parliament Salem Al-Shabak announced that Turkish troops have fully withdrawn from Zalkan military camp.
The withdrawal of Turkish forces was reached as an agreement between the central government in Baghdad and Kurdistan's regional government, sources told FNA.
"Only Turkish advisers and technicians will remain at the military base as per the agreement," the reports said.
Last week, Turkey dispatched its battalion of hundreds of soldiers to an area near the city of Mosul in Nineveh province on the pretext of providing military training to the Kurdish Peshmerga fighters.
Iraq's popular forces had vowed to strike at Turkish troops and Ankara's interests if the latter continued to ignore calls for immediate pullout from Northern Iraq.
Last night, Head of Iraq's Badr Organization Hadi al-Ameri warned that his forces will strike and destroy Turkey's aggressive troops deployed in Northern Iraq.
"The Iraqi popular and security forces can raze the Turkish troops from the face of the earth completely," Ameri said on Sunday.
He referred to the rallies held by the Iraqi citizens in Baghdad in recent days to condemn the presence of Turkish forces in their country, and said, "The Iraqi people's rallies mean their support for the government's action to force out the Turkish forces and end the violation of the country's sovereignty."
Also on Friday, the Iraqi volunteer forces reiterated that the presence of foreign forces in Iraq is regarded as an act of aggression, and said the Iraqi government should take the necessary measures to expel the Turkish troops and "if these forces do not leave Iraq, they will see the harsh reaction of the Iraqi popular forces".
In relevant remarks on December 7, Ameri also warned that his forces are fully prepared to launch strikes at the US military bases and Turkish troops in Iraq.
He pointed to Turkey's interferences in Iraq, and said, "The Turkish government should know that we will destroy all its tanks if it does not withdraw from the city of Mosul."