Iraq
Moqtada al Sadr Called Nigerian Gov. as ISIS; Urges Nationwide Protests Against Zaria Carnage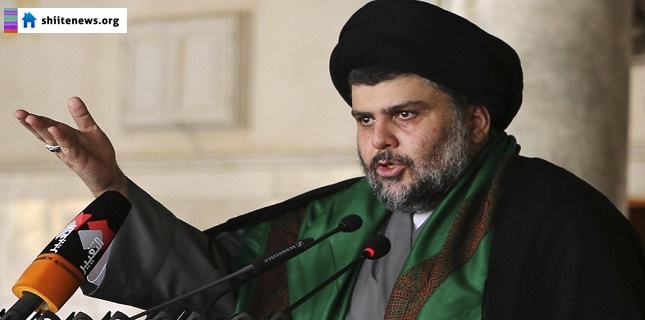 Senior Iraqi Shiite cleric and the Leader of the Sadrist Movement, Moqtada al-Sadr criticized on Monday strongly the Nigerian security authorities attack on the house of a Nigerian
Shiite cleric, Ibrahim al-Zakzaky as called for his followers to go out in protest demonstrations on the incident next Friday.
Sadr said in a statement posted on his official website, that "what happened today from terrorism and state terrorism in Nigeria is a serious and dangerous," adding that "the government turned to ISIS terrorism at is the first approach and the way to kill Shiites without the guilt. "
Sadr noted that " attacking unarmed supporters of Sheikh al-Zakzaky and intentionality arrest him and hide or kill him without guilt, just because they are Opponents then where is the freedom and democracy" ?, calling it as an "aggression" as "a deliberately to stoke sectarian strife".
Sadr called on Iraqis to go out on "mass" demonstrations on Friday in Najaf, Karbala and all the provinces to protest against the incident, as well as raising picture of al-Zakzaky detainee and his assistant, Sheikh Muhammad Turi who was killed by the Nigerian authorities.
Al-Sadr has demanded to send a parliamentary government delegation from al-Hozoa to find out the facts incident, appealing the international bodies to intervene "to end such attacks."
The Nigerian army attacked on Saturday the home of the leader of the Islamic Movement in the country Sheikh, "Ibrahim al-Zakzaky which led to the death and injury of dozens of the movement's members.
According to al-Waghat site , the army troops have attacked a gathering of Shia Muslims who attended a Husseinya in Zaria city ", for the funeral of one of the victims who were killed a few days ago at the hands of "Boko Haram" terrorist Wahhabism group, in which its leader declared his pledge allegiance to ISIS terrorist organization.
Sheikh Zakzaky has criticized earlier strongly the Nigerian government because of political corruption, and relations with the Israeli entity and exchange of information between the security agencies of the two countries, and " Boko Haram " and its relations with some leaders of the Nigerian army and other topics.