Iraq
Ayatollah al-Sistani's representative calls on Iraqi authorities to 'seriously fight corruption'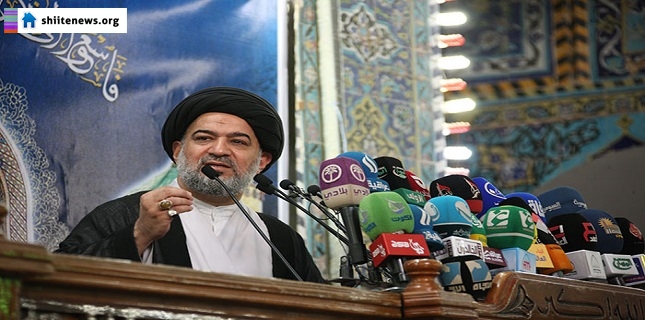 During his Friday prayer sermon delivered to a large and fervent crowd of believers in the Iraqi city of Karbala's Holy Shrine of Imam al-Husayn (A), Hujjat al-Islam Sayyid Ahmad al-Safi called for government and the people's joint cooperation in achieving Prime Minister Haydar al-Abadi's reform plan, saying that the implementation of reform in all government agencies and institutions is possible.
"Officials have acknowledged the existence of problems and they know well that the great problems that our country is suffering from are in result of an increase in corruption," he said.
The representative of Grand Ayatollah Sayyid Ali al-Sistani in the holy city of Karbala explained that it is not enough for the authorities to acknowledge our call for reform and announce their acceptance of it rhetorically, rather they must strive with the utmost seriousness and contribute effectively to achieve real reform on the ground.
Hujjat al-Islam al-Safi stressed on public collaboration in the implementation of the reform plan and said no authority in any legal position has the power to implement the desired reforms alone, therefore it is essential that officials in other branches should cooperate in order to accomplish this great task because responsibility is borne by all of those with power.
He pointed to the objectives of the reform plan in Iraq and called on the judiciary and the Commission of Integrity, the country's anti-corruption agency, to prosecute those who have engaged in corruption. "Fighting corruption is one of the key responsibilities of the Commission of Integrity and the judicial system," he explained.
Karbala's Friday prayers' leader said that the Iraqi people have been grappling with corruption in the country for many years and thus, the authorities are expected to implement the reform plan as soon as possible.
Hujjat al-Islam al-Safi continued by stating that weakness in economic planning and the lack of an integrated strategy for the provision of non-oil resources is one of the reasons for corruption in Iraq.
he said: "Unfortunately, Iraq does not use its non-oil funds and facilities efficiently and is suffering from lack of non-oil based investment resources and potential."
His Eminence also called for the distribution of agricultural land and stated that an increase in the capacity of this key industry will help realize the Iraqi people's right to food security.