Iraq
Bomb blast leaves 6 Iraqi policemen dead, 10 wounded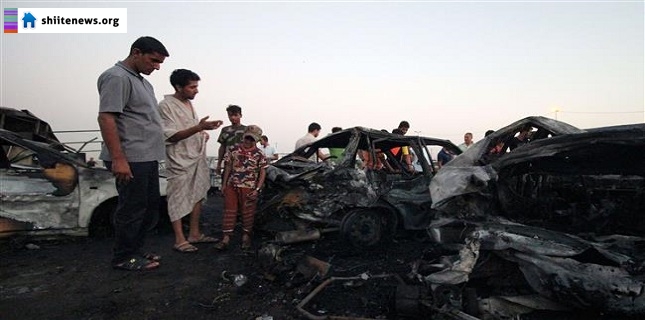 At least six police officers have reportedly lost their lives and 10 others sustained injuries when a bomb explosion ripped through the parking lot of a police station in the capital, Baghdad.
The blast took place in the eastern sector of Baghdad on Friday, and the victims were three bomb disposal experts and three policemen. Security forces had towed the suspicious car to the police station the previous day.
Also on Thursday, a Daesh bomber drove his explosives-laden vehicle into a convoy of army troopers advancing toward Anbar's provincial capital city of Ramadi, killing two generals and three soldiers. Ten other soldiers were also wounded in the process.
The Iraqi military, in a statement broadcast on the state-run al-Iraqiya television network, identified the two victims as Major General Abdul-Rahman Abu-Regheef, deputy chief of operations in Anbar, and Brigadier General Sefeen Abdul-Maguid, commander of the 10th Army Division.
Elsewhere in Iraq, more than a dozen civilians have been injured after members of the Daesh terrorist group launched a mortar attack against a residential neighborhood in the embattled western province of Anbar.
Head of the Amiriyah Fallujah city's local council, Shaker al-Issawi, told Arabic-language al-Baghdadia satellite television network that different parts of the city, situated roughly 40 kilometers (24 miles) west of Baghdad, were struck on Friday, leaving 13 civilians, mostly women and children, injured.
The projectiles also caused damage to a number of houses as well as personal properties in the residential area.
Gruesome violence has plagued the northern and western parts of Iraq ever since Daesh Takfiris launched an offensive in June 2014, and took control of swathes of Iraqi territory.
The militants have been committing heinous crimes against all ethnic and religious groups in Iraq, including Shias, Sunnis, Kurds, Christians and Izadi Kurds.
Units of army soldiers and volunteer fighters are seeking to win back militant-held regions in joint operations.