Iraq
ISIL opens gift shop in Iraq's Mosul, selling terrorists' gear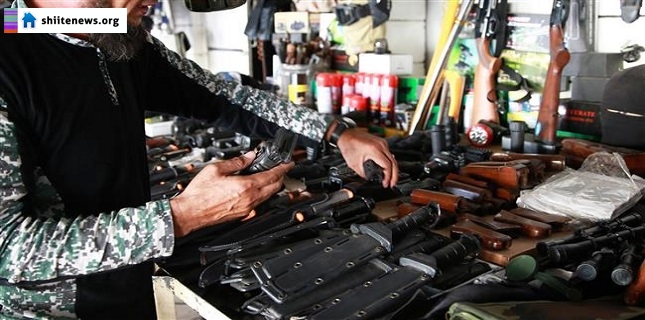 The ISIL terrorist group has opened a "souvenir gift shop" in Iraq's militant-held city of Mosul, selling souvenirs from its reign of terror, including the Takfiris' execution knives.
Situated in the northern Iraqi city of Mosul, the newly opened macabre gift shop offers ISIL-branded items ranging from replicas of the infamous execution knives and assault rifles to Takfiri-style clothing and balaclavas, reminding the gruesome crimes committed by the militant group.
The brightly-lit and well-stocked shop mainly sells the group's conventional gear, but other items such as baseball caps, footballs and even Adidas tracksuit tops and trainers are also available to shoppers.
The terrorist group tries to provide the on-the-ground infrastructure that a potential sightseeing traveler would expect from a major city, despite its illegal presence in the region and the gruesome crimes it commits against the civilians.
The heavily-armed group took control of Mosul in June 2014, before sweeping through parts of the country's heartland, and has gained notoriety for its barbarity, heinous atrocities, and sacrilegious acts.
On Tuesday, the Office of the United Nations High Commissioner for Human Rights issued a report saying that "an increasing number of people in Iraq, including families with children and the elderly, have increasingly encountered deadly ambushes as they try to escape areas controlled by ISIL, by risking their lives on a treacherous mountain journey to safety."
According to the report, the terrorist group's snipers "attack and kill" the desperate people who try to flee the Takfiri-held regions.
Violence has plagued the northern and western parts of Iraq ever since ISIL launched its deadly terror campaign in 2014, and took control of portions of Iraqi territory.