Iraq
Iraq thanks Iran for assistance in fight against terrorism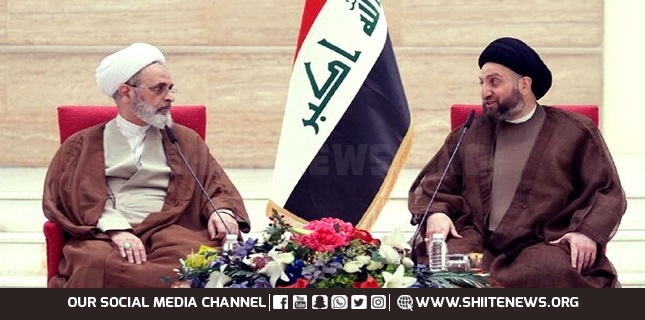 In a meeting with Ayatollah Alireza Arafi, the director of the seminaries of Qom, Ammar al-Hakim, leader of Iraq's National Wisdom Movement, expressed his appreciation for Iran's assistance in Iraq's fight against terrorism.
The meeting, held at Iraq's National Wisdom Movement in Baghdad, focused on the historical relations between Iraq and Iran and the seminaries of Najaf Ashraf and the holy city of Qom.
Hakim emphasized that the cooperation and closeness of Najaf and Qom seminaries will benefit Islam and Shiites all over the world. The two leaders also reviewed positive developments in Iraq, including the peaceful transition of power and progress achieved in political, social, cultural, economic, and security fields.
Hakim noted that Iraq is experiencing unprecedented stability with the cores of terrorism crushed and social bonds strengthened. He further pointed to Grand Ayatollah Sistani's fatwa as a key factor in disrupting equations against terrorism.
Hakim also thanked Al-Hashd Al-Sha'bi (Popular Mobilization Forces) and other security forces for their role in liberating Iraqi territory from the ISIS occupation.
The leader of Iraq's National Wisdom Movement expressed gratitude for Iran's support in helping to fight terrorism in Iraq.
The Iraqi cleric highlighted the importance of unity in various fields throughout the country. He noted that this unity has played a crucial role in bringing regional forces closer together, ultimately impacting Iraq's internal situation.
Additionally, Hakim emphasized the significance of religious teachings in combating deviant thoughts and increasing pilgrims to holy shrines within Iraq.
Finally, the clerics called for a concerted effort to address pressing social issues such as drugs and divorce.