Iraq
al-Khazali underscore right of majority to form government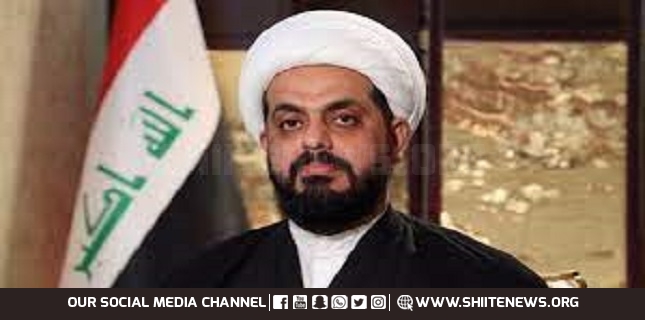 The secretary general of the Asaeb Ahl al-Haq movement in Iraq says the majority's right to form a government must be respected.
The secretary-general of the Asaeb Ahl al-Haq movement, a member of the Coordination Framework coalition (mostly Shia parties except the Sadrist Movement), said that the right of the majority to form a new Iraqi government should be respected.
Qais al-Khazali in his Eid al-Fitr prayer sermons implicitly referred to the Sadr faction and said: "If the opposing political faction has a plan to observe the rights of the majority, we will deal with it with respect."
He also noted that the coalition has prepared a coordination framework for a plan to break the deadlock, which will inform other political currents after the Eid al-Fitr holiday.
The Iraqi cleric added that the Coordination Framework is ready to show more flexibility in advancing the process of forming a new government.
Recalling the manipulation of the October 2021 election results, al-Khazali said that most of the winning groups lack the necessary self-confidence because they are sure that the results were contrary to expectations.
According to him, if new elections are held, some political groups will be surprised by the results.
Meanwhile, the leader of the National Wisdom Movement warned in the Eid al-Fitr sermon on Tuesday about the dangers of a political stalemate in Iraq in forming a new government.
Seyyed Ammar Hakim, in this sermon, which was attended by a group of political leaders and officials, including Hadi al-Amiri, the leader of the Fatah coalition, and Qasim Al-Araji, the national security adviser, and other political figures and various segments of the people, said: "Since the parliamentary elections, we are still witnessing the slowness in reaching agreement between the political currents, and the Iraqi political currents have not been able to meet the expectations of the people to change and form a new government."
"The political situation in Iraq has reached a critical and dangerous situation and we need a realistic review to break the political stalemate," he said.
He stressed that the approach of defeating political rivals is not in the interest of any group, and with this approach, it is not possible to build the country and achieve the desired goals, but this approach complicates the situation.