Iraq
US contractor killed in rocket attack on Iraq base: American officials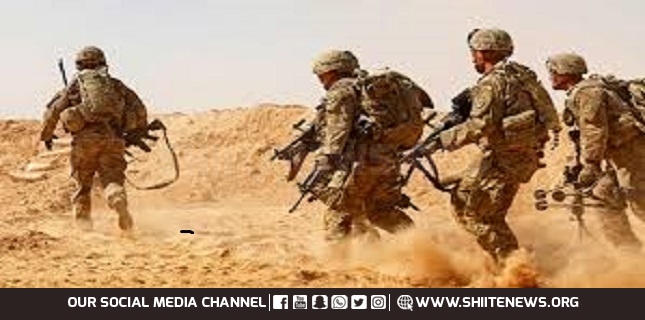 American officials say a "US civilian contractor" has been killed in, what they describe as, a rocket attack targeting an Iraqi military base housing US and Iraqi forces in the Arab country's north.
Reuters cited the officials as saying that the alleged fatality had been caused on Friday at the outpost, which is located near the city of Kirkuk.
Several US service members and Iraqi personnel were also wounded in the reported incident, the agency added, citing a US-led military coalition, which has stationed itself in Iraq under the pretext of fighting the Takfiri terror group of Daesh.
Iraqi security forces would be leading the response and investigation into the incident, the coalition added.
The agency further cited US officials as saying, on condition of anonymity, that the American service members had been lightly wounded and believed to be back on duty.
Earlier on Friday, the Iraqi military said several rockets had landed earlier inside the K1 military base located 15 kilometers (nine miles) northwest of Kirkuk — where the US forces as well as members of the Iraqi Federal Police and Counter-Terrorism Service are deployed.
There have not yet been any reports pointing to either casualties or material damage from the incident.
Reporting on the Iraqi military's statement, Reuters cited "security sources" as saying they had found a launch pad for Katyusha rockets inside an abandoned vehicle near the outpost.
It was not yet clear, however, whether the incident used such projectiles. No party has claimed responsibility for the rocket launch either.
Over the past six months, Iraqi outposts accommodating American troops have come under at least 10 such rocket barrages, including the Friday launch.
Most recently, at least six Iraqi security forces were wounded after four Katyusha rockets hit a military complex that also houses US forces near Baghdad International Airport on December 9.
Six days earlier, a rocket barrage had hit Ain al-Asad Airbase in the western Iraqi al-Anbar Province, which accommodates American forces, and had notoriously hosted surprise and unauthorized visits by US President Donald Trump last December and his second-in-command Mike Pence this November.
The repeated attacks come as Iraq is witnessing street protests over economic woes.
The US invaded Iraq in 2003 under the pretext of "war on terror." The invasion was followed by rampant violence blamed largely on widespread opposition inside the country to the foreign presence.
In 2014, the Arab nation was attacked by Daesh, which had reared its head amid the volatility.
Washington amassed the coalition soon afterwards, and began renewed wholesale operations in the country at the head of scores of its allies.
The terrorists, however, reportedly resurfaced in Iraq recently, despite the presence there of around 5,000 US troops, and large-scale operations carried out by the coalition, which would repeatedly feature indiscriminate bombings.
Reports say Daesh terrorists operating in the area where K1 is located "have turned to insurgency-style tactics."