Iran
Iran favoring political solution to Mideast issues: Official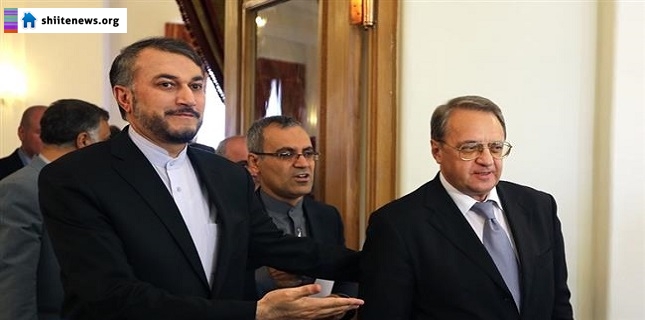 A senior Iranian official has reaffirmed the Islamic Republic's support for a political and win-win solution to the ongoing conflicts in the region.
"During recent negotiations between the [Iranian] foreign minister [Mohammad Javad Zarif] and Kuwaiti and Qatari officials, it was stressed that the regional issues, including those in Bahrain, Yemen, Syria and Iraq, have no solution but a political one based on a win-win approach," Hossein Amir-Abdollahian, the deputy foreign minister for Arab and African affairs, said on Thursday.
Amir-Abdollahian made the remarks during a joint meeting of Iran and Russia attended by Russian President Vladimir Putin's special envoy for the Middle East and Africa, Mikhail Bogdanov, in Tehran on Thursday.
Last month, Zarif visited Iraq, Kuwait and Qatar on his three-nation tour of the Middle East to exchange views on bilateral ties as well as major regional and international developments.
Iranian officials have always stressed the importance of relations with the Islamic Republic's neighbors.
Amir-Abdollahian said that the Islamic Republic's policy to promote ties with its neighbors provides regional countries with an opportunity to settle conflicts in the region and boost cooperation in favor of regional countries.
He also criticized certain regional countries for pursuing a military approach to the current conflicts in the region.
The Russian official, for his part, underlined the need for further consultations among regional countries, especially Iran and Saudi Arabia, to reach understanding on regional issues.
The resolution of conflicts in the region, including those in Syria and Yemen, is impossible without Iran's participation, Bogdanov said, stressing that the persistence of insecurity would further empower terrorists, including ISIL militants.
He also expressed Russia's opposition to any foreign military intervention, saying such an approach is in contravention of international law.
The Russian official visited Iran to hold discussions with Iranian officials over the situation in the Middle East, including the tension in Syria.