Iran
Missiles, drones put on display in Tehran parade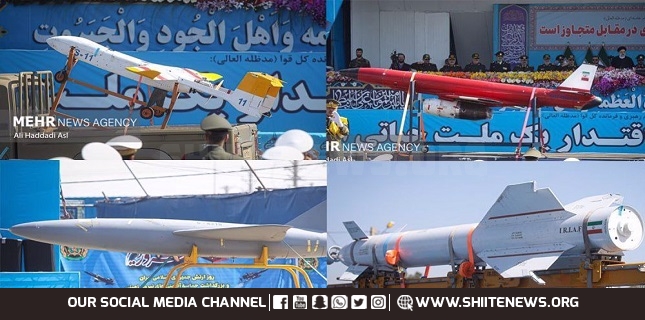 Iran has paraded its military achievements including the longest-range drone in the world along with ballistic and hypersonic missiles on the occasion of Sacred Defense Week.
The parades began at the mausoleum of the late founder of the Islamic Republic Imam Khomeini in southern Tehran on Friday morning, marking the day when the regime of ex-Iraqi dictator Saddam Hussein launched a war on Iran 43 years ago.
Similar rallies were also held in other Iranian provinces to commemorate the occasion.
Forces from the Iranian Army, the Islamic Revolution Guards Corps (IRGC), Police, Border Guards, and Basij are participating in the parades.
The ceremony in Tehran is attended by Iranian President Ebrahim Raeisi and senior military officials.
The latest military products, including various missiles and drones, are usually put on display at the annual parade. One of the highlights of Friday's parade in Tehran was the showcasing of two key Iranian missiles, namely 'Fattah' and 'Paveh'.
'Fattah' is a precision-guided two-stage solid-fueled rocket with a range of 1,400 km and a terminal speed of Mach 13 to 15. The speed, along with movable nozzles that allow the missile to maneuver in all directions both in and out of the Earth's atmosphere, makes it immune to interception by all existing anti-missile systems.
'Paveh' is a new long-range cruise missile that can travel as far as 1,650 kilometers (1,025 miles).
The parade also included the unveiling of "the longest-range drone in the world" along with Mohajer, Shahed and Arash unmanned aerial vehicles displayed in the event.
The Islamic Republic said last month that it had built an advanced drone named Mohajer-10 with an enhanced flight range and duration as well as a larger payload.
It has an operational range of 2,000 km (1,240 miles) and can fly for up to 24 hours, Iranian media reported then, adding that its payload could reach 300 kg (661 pounds), double the capacity of the Mohajer-6 drone.