Iran
Iran pursues neighborliness policy, seeks deeper regional ties: FM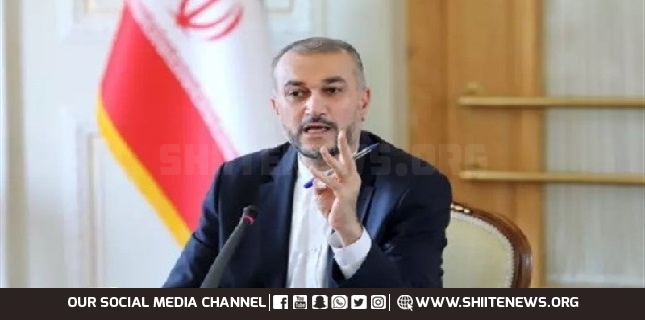 Iranian Foreign Minister Hossein Amir-Abdollahian says the Raeisi administration is seriously pursuing its good neighborliness policy and seeks to cement ties with the states in the region.
"The neighborhood policy of the 13th administration is being carried out seriously based on the wise guidelines of the Leader of the Islamic Revolution [Ayatollah Seyyed Ali Khamenei] and the promotion and strengthening of relations with the neighboring and regional countries," Amir-Abdollahian said in a post on his Twitter account on Tuesday.
The recent visit by Oman's Sultan Haitham bin Tariq Al Said to Tehran was an important, major step to consolidate strategic cooperation between the two countries, he added.
Heading a high-ranking politico-economic delegation, the Omani Sultan began his two-day visit to Tehran on Sunday at the invitation of Iranian President Ebrahim Raeisi.
During his stay in Tehran, Sultan Haitham met with Ayatollah Khamenei and President Raeisi while senior Iranian and Omani delegations also held political and economic discussions.
In the meeting with the Omani Sultan on Monday, Ayatollah Khamenei lauded the Raeisi administration's policy of improving ties with regional nations and said Tehran and Muscat will benefit from closer bilateral cooperation.
The Leader stated, "Increasing Iran-Oman cooperation is significant because the two countries share the very important Strait of Hormuz waterway."
On Sunday, Iranian and Omani officials signed four documents to improve cooperation in the economy, energy and investment fields as well as free zones.
At a press conference with his Omani counterpart, the Iranian foreign minister said, in addition to the four documents, leaders of Iran and Oman seek to finalize a comprehensive strategic cooperation agreement in the near future.
Omani Foreign Minister Badr Al Busaidi, in turn, emphasized that Sultan Haitham's visit to Iran marks a new phase in bilateral relations, and signifies the continuation and depth of ties between the two allies.
Oman has long been an interlocutor in interactions between the West and Iran. The country has mediated the release of several foreign citizens and dual nationals.
Meanwhile, speaking at a meeting with a number of Iranian lawmakers and diplomats, Amir-Abdollahian once again reiterated the administration's "balanced foreign policy".
"We do cooperate with the countries in the world but look to the neighbors is a priority," the top Iranian diplomat said.