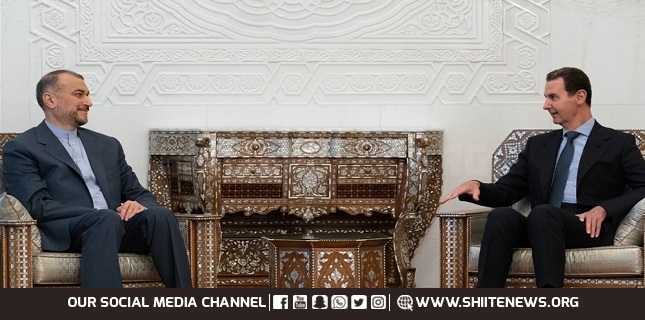 A high-ranking Iranian delegation headed by foreign minister Hussein Amir-Abdullahian arrived in Damascus. The top official met Syrian president Bashar al-Assad who welcomed Iran's participation in the upcoming quadripartite talks between Syria, Turkey, Iran and Russia.
Assad asserted that Syrians' interests are the basis for any steps or dialogue the government makes. Amir-Abdullahian renewed Iran's support to Syria. He said Iran trusts Syria's stances and decisions and will support them during the quadripartite talks. He also welcomed the recent ease of tensions between Syria and Arab countries.
The top official also held a separate meeting with his Syrian counterpart Faisal al-Miqdad, followed by a joint press conference in which Amir-Abdullahian underlined that dialogue is the only way to end the region's dilemmas.
He added that the recent Israeli aggression on Aleppo indicates the regime's barbaric attitude and reflects its concern over internal crises Israel is facing. Amir-Abdullahian said it's time that all foreign troops illegally present in Syria to leave, calling on all sides to respect Syria's sovereignty.
Miqdad, for his part, said coordination between both countries is at its highest levels, describing Iran's role during Syria's unrest as positive.
Amir-Abdullahian also visited earthquake-affected parts of Syria as well as temporary shelter centers, expressing Iran's condolences to the Syrian people and promising his country will continue to send humanitarian aid to the needy.
Iran's Foreign Minister is exerting diplomatic efforts to speed up the restoration of relations between Turkey and Syria. The ties between Iran and Syria continue to set an example of steadfast strategic cooperation in the region based on trust and mutual interests.