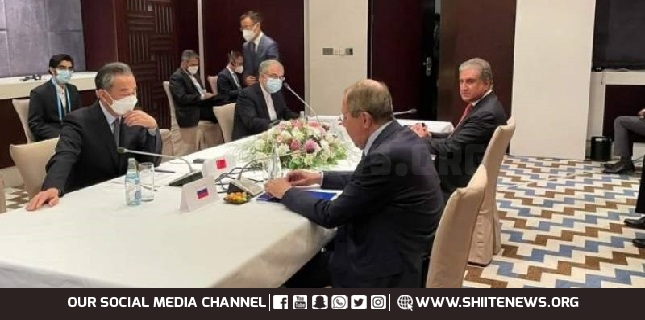 The foreign ministers of Iran, Russia, China, and Pakistan urge the formation of an inclusive government in the now-Taliban-ruled Afghanistan that serves to represent all Afghan ethnicities.
Hossein Amir-Abdollahian, Sergei Lavrov, Wang Yi, and Shah Mahmood Qureshi made the call on Thursday, holding a quadrilateral meeting on the sidelines of the summit of the Shanghai Cooperation Organization (SCO) in the Tajikistani capital Dushanbe.
The officials also laid emphasis on the prospects of a terrorism- and narcotics-free Afghanistan that does not pose any threats to its neighbors.
The Taliban wrested control of Afghanistan last month after a fierce offensive facilitated by a flash withdrawal of all of the United States' forces from the country that had been announced by Washington back in April.
The group has pledged to allow the formation of a broad-based and representative government. Concerns, however, remain given its drawn-out history of violence.