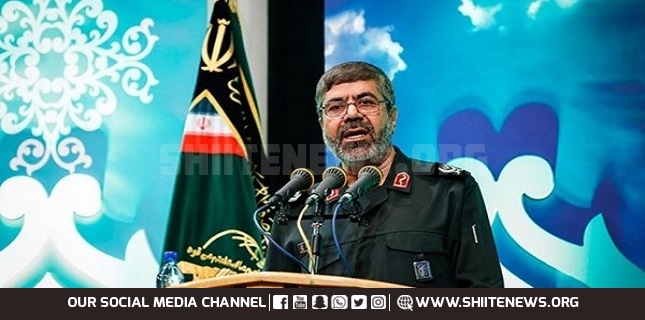 The spokesman for the Islamic Revolution Guards Corps (IRGC) says foreign media outlets go into overdrive at the time of elections in Iran, each time churning out new untruthful content in an attempt to drive a wedge between the Iranian people and government.
Ramezan Sharif said in a meeting with media and online activists in Tabriz City on Thursday that every media outlet follows an agenda, and foreign media seek to tarnish Iran's image.
"Since the Islamic Revolution (of 1979), the position of the foreign media vis-à-vis the Islamic Republic has been clear, and they carry out their activities against Iran each time with new content," Sharif said. "The election season in Iran is springtime for foreign media."
The IRGC spokesman said hostile media always attempt to kill people's hope in the ruling establishment by raising matters like people's remorsefulness about having risen up in the Islamic Revolution, the lack of a bright future in Iran, and the existence of crisis-like conditions.
Sharif warned that the virtual space is too vast and there is no control on the Internet, asking parents and families to protect their children online.
Iran is holding a presidential election on June 18. Seven candidates have been approved to run. Some high-profile figures, including Vice President Es'haq Jahangiri and former Parliament Speaker Ali Larijani, were not approved by Iran's Constitutional Council to run. That sparked mainly Reformist criticism of the vetting process, and foreign media outlets have been covering the matter almost single-mindedly.
On Thursday, Leader of the Islamic Revolution Ayatollah Seyyed Ali Khamenei said the Constitutional Council had acted according to law, and thanked those candidates whose qualifications were not ascertained but who reacted to the matter with sobriety.