Iran
Larijani: Resistance Groups to Conduct Simultaneous Fight against Zionists, Terrorists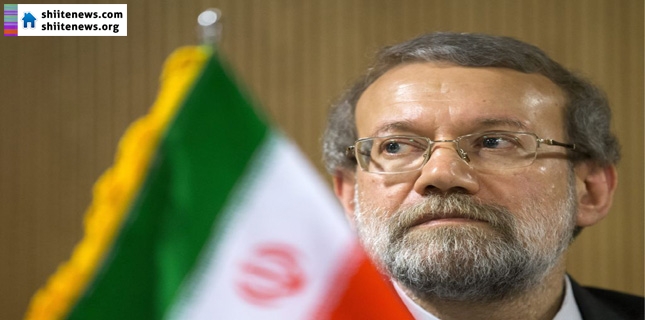 Iran's Parliament Speaker Ali Larijani cautioned the regional resistance groups and countries to see the Israeli regime and the terrorist groups as a single enemy, stressing that they are the two sides of the same coin.
"All resistance lovers in the region should think of two issues, first fighting the Zionists, and second fighting the terrorist streams as they are the two sides of the same coin," Larijani said in a meeting with his Lebanese counterpart Nabih Berri in Beirut on Monday.
He also underlined the necessity of political solutions to the regional crises, including Syria, and said, "This is an issue that we have stated since the very first day of events in Syria, but many countries didn't accept it and created this situation."
Larijani warned that when the terrorist streams are created, they cannot be annihilated easily.
In relevant remarks to reporters earlier today, Larijani lambasted the Zionist regime and certain Arab states' financial and political supports for the terrorist groups in the region.
"At present, certain terrorist streams are being fed by the resources of the Zionist regime and certain regional Arab countries," Larijani told reporters in Beirut.
He warned that certain states were making a tactical use of terrorism and ignite a fire which cannot be extinguished easily, adding that during his visit to Beirut he would hold talks with the Lebanese officials on ways to fight terrorism.
Larijani underlined that the developments in the region, specially in Syria, Lebanon and Iraq, are specially complicated.
He said that during his visit to Beirut, the bilateral relations between Iran and Lebanon would also be discussed.
Larijani arrived in Syria on Sunday on the first leg of a three-day-long tri-nation tour to confer on the latest developments in the region, and discuss ways to promote cooperation with Damascus.
In Damascus, Larijani met Syrian President Bashar Assad, Parliament Speaker Mohammad Jihad al-Lahm, Prime Minister Wael Al-Halqi, Deputy Prime Minister and Foreign Minister Walid al-Moallem and the leaders of the Palestinian resistance groups residing in Syria.
The Iranian top legislator will leave Beirut for Baghdad after meeting Lebanese Prime Minister Tammam Salam and leaders of the Lebanese resistance groups.