Iran
Top Commander: Iran Ready to Send Weapons to Iraq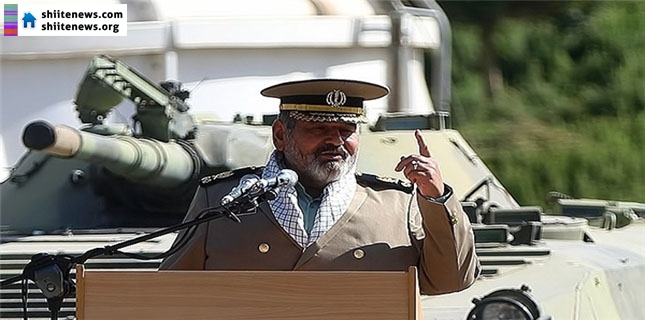 Chief of Staff of the Iranian Armed Forces Major General Hassan Firouzabadi underlined the country's readiness to send weapons and equipment to Iraq to help its neighbor in campaign on terrorism.
"Since security of our country and Iraq is interwoven and we couldn't remain indifferent to the cruelty against them, our skilled people and a number of brave Iranian commanders went to Iraq to provide Iraqi commanders with advice and consultations and help them," Firouzabadi told reporters in Tehran on Saturday.
He said Iran is ready to dispatch any humanitarian aid needed by Iraq, and added, "We are ready to send weapons and other equipment to that country through legal channels once requested by the Iraqi government."
Also asked about the underway nuclear talks between Iran and the Group 5+1 (the US, Russia, China, Britain and France plus Germany) in Vienna, Firouzabadi said, "Negotiations and similar issues never leave any impact on the Iranian nation's correct and independent move."
He underscored that negotiations are merely aimed at assuring the world powers that Iran's nuclear program is peaceful, and further called on the G5+1 to display that they have the power to understand other nations' right to use peaceful nuclear technology.
Iran and Iraq have enjoyed growing ties ever since the overthrow of the former Iraqi dictator, Saddam Hussein, during the 2003 US invasion of the Muslim country.
Earlier this month, Lieutenant Commander of the Islamic Revolution Guards Corps (IRGC) Quds Force Brigadier General Esmayeel Qa'ani said Baghdad remained untouched by ISIL terrorist group due to Iran's support and assistance.
"The ISIL terrorists sought to surround Baghdad but they failed in reaching their ominous goals thanks to Iran's supports," Qa'ani said in North Khorassan province.
Noting that the ISIL terrorists have been left with no more command center and are searching for new shelters, he said ISIL is becoming weaker and weaker day by day and is being annihilated.