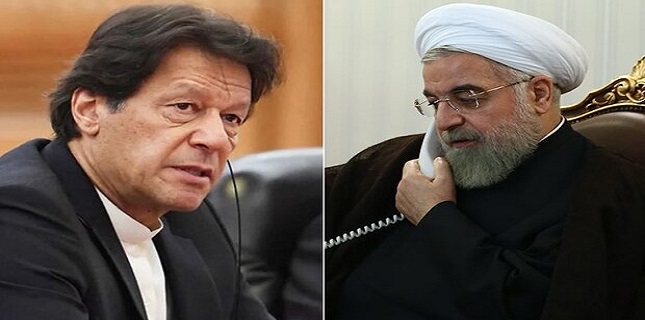 Iranian President Hassan Rouhani and Pakistani Prime Minister Imran Khan have called for the further expansion of bilateral ties, especially trade cooperation.
During a telephone conversation on Wednesday, the two top officials discussed a variety of issues, including bilateral ties.
Rouhani called for the reopening of the border markets of Iran and Pakistan while observing healthcare guidelines, saying it will lead to the growth of Tehran-Islamabad trade relations.
"We are interested in exchanging goods and trade with Pakistan via borders, as we do with other neighboring countries," Rouhani said.
He also praised Pakistan's opposition to the illegal US sanctions against Iran.
Expressing hope that the two countries will boost their economic cooperation, Rouhani also called for the implementation of the agreements already signed between Tehran and Islamabad.
Imran Khan also emphasized the development and deepening of relations with Iran, especially economic and trade cooperation, and welcomed the resumption of trade activities on the borders of the two countries and the operation of border markets in accordance with healthcare guidelines.
He said the resumption of trade between the two countries will significantly contribute to Pakistan's economy, which has been plagued by the coronavirus.
The Pakistani prime minister also condemned the US imposition of sanctions and increased economic pressure on Iran amid the difficult conditions that the world is facing due to the coronavirus pandemic, and said, "I take it upon myself to support Iran in the face of illegal US actions."
The two sides also stressed the need to use each other's experience, knowledge and technology to combat and control coronavirus.
They also condemned any discrimination and pressure against Muslims and expressed their support for Islamic nations in this regard.
-Rouhani Imran