Bahrain
Bahrain: Shiite demand Sheikh Salman's release in fresh demos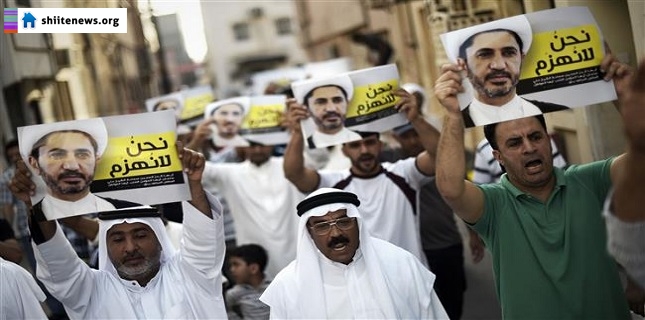 Bahrainis have held fresh demonstrations across the Persian Gulf kingdom to call for the release of all political figures and activists incarcerated by the regime.
On Saturday, hundreds of Bahrainis took to the streets of several parts of the country to voice their opposition to the continued imprisonment of all political prisoners, including Sheikh Ali Salman, who is the secretary general of Bahrain's main opposition bloc al-Wefaq National Islamic Society.
The demonstrators marched on the streets of al-Musalla area in the capital Manama as well as Bilad al-Qadeem, Salman's hometown.
Similar protests were also held in the northern village of Abu Saiba, west of Manama, and the northeastern village of Samaheej.
This was the latest in a series of anti-regime protests by Bahrainis who have pledged to continue protests against the ruling Al Khalifa regime until their demand for a democratically-elected government is met.
Since mid-February 2011, thousands of such protesters have been held on the streets of Bahrain, calling for the Al Khalifa royal family to relinquish power.
The opposition leader and prominent cleric, Sheikh Salman, was jailed in December 2014, on charges including seeking regime change and collaborating with foreign powers. However, he has repeatedly dismissed the allegations, saying he has been seeking reforms through peaceful means.
The UN High Commission for Human Rights and Amnesty International have also demanded Salman's release, saying there is no concrete evidence against him.
Manama keeps hundreds of people behind bars at the notorious Jaw Prison, Bahrain's central detention facility, only for participation in peaceful anti-regime protests.