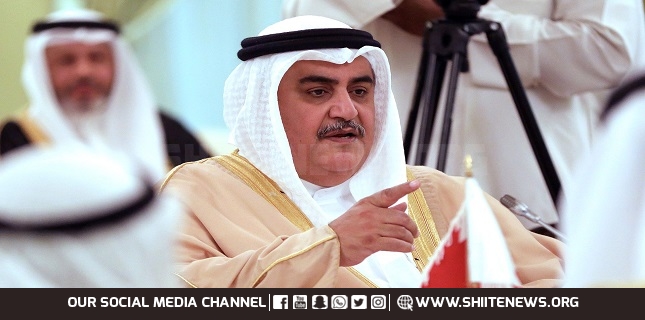 Bahrain's Foreign Minister Khalid bin Ahmed Al Khalifa once again voiced support to the Zionist regime saying that Lebanon was to blame for the situation at the border between Lebanon and the occupied Palestinian territories.
"The aggression of one state against another is prohibited by international law. A state standing by, watching battles taking place on its borders and putting its people at in danger is a state that greatly neglects its responsibilities," Al Khalifa tweeted on Sunday.
He further said that "it is unacceptable for Lebanon to be put in a situation of a possibility of a devastating war in which it has no glory or use."
On Sunday, Hezbollah's Hasan Zbeeb and Yasser Daher's unit targeted an Israeli military vehicle on the road at the Avivim Israel base, killing or injuring occupation soldiers onboard. The operation was in retaliation for Israeli aggression which targeted Hezbollah in Lebanon and Syria last week.
Earlier on August 25, Israeli strike killed two Hezbollah fighters near Syria's Damascus. Later in the same night two Israeli–explosive-laden drones came down, hitting Hezbollah's Media Relations Center. Secretary General Sayyed Hasan Nasrallah described the Israeli aggression as 'very very dangerous' and vowed that the Lebanee resistance will retaliate.
In his Sunday tweet, Al-Khalifa further urged Bahriani citizens to leave Lebanon " immediately" after Hezbollah's operation and "given the events and developments in the country that require everyone to take precautions."
Khalifa has previously displayed public support for the Zionist entity and his expressed desire for ties with Tel Aviv in a general way.
Al-Wefaq Hits Back
Hitting back at the Bahraini FM, Deputy Chief of Al-Wefaq prominent opposition group Sheikh Hussein Daihi stressed that the Bahraini people stand by the Lebanese people.
"Bahraini people support Lebanese people's right to resist the occupation," Shiekh Daidi said.
Meanwhile, he lashed out at Al Khalifa's remarks, saying that such remarks are announced by a government that rushes towards normalizing ties with the Zionist entity, noting that this stance doesn't represent the popular position of the Bahraini people.