Articles
Sleeping with sectarianism: How militants are becoming a political force in Pakistan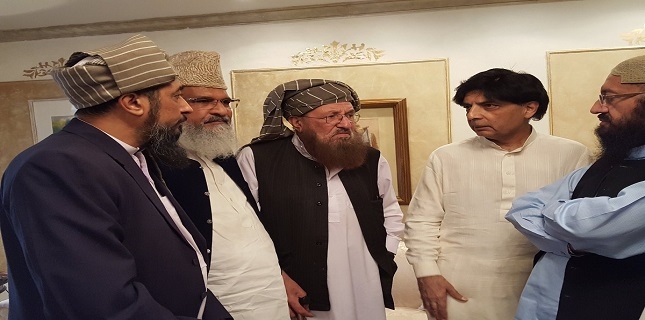 As per a study by Never Forget Pakistan, at least 4,707 Pakistanis have been killed in sectarian violence between January 2001 and August 2016. The killing of Shias has been systematic in terms of targeting places of worship, religious gatherings and community leaders such as doctors, lawyers and clerics. A case for Shia genocide in Pakistan is indeed undeniable.
Raids are taking place all across Karachi in what the Sindh Government claims is to arrest those responsible for sectarian violence. This of course is said to be part of the implementation of the National Action Plan.
But what if those militants, to combat whom NAP was designed, end up sitting in our Parliament attending official security briefings and reviewing performance of our government and security agencies under NAP. We may not have to wait much longer for this to become a haunting reality.
On 1st December by-elections are taking place in PP-78 Jhang IV. Jhang is no ordinary district to contest elections in. It is home to Pakistan's biggest and most organized militant sectarian outfit, Sippah-e-Sahaba Pakistan (SSP). However, the biggest threat is not that one of these outfits will carry on a terror attack on election day but it is the possibility that the head of the SSP, Ahmed Ludhianvi, may get elected to the Punjab Legislative Assembly.
Ludhianvi is not contesting alone. He has a cover or back up candidate in Masroor Nawaz, son of the founder of SSP, Haq Nawaz Jhangvi.
It is not that Pakistan doesn't have laws to keep a check on the activities of people like Ludhianvi and Masroor. Both of these men have been proscribed which means their activities are banned under Section 11EE(1) of the Anti Terrorism Act 1997 and feature on its fourth schedule through Home Department Notification No. SO(IS-I)4-10-2011.
Their organization has also been banned repeatedly as it continued to resurface under different names. The SSP was proscribed on 29th January 2002 via S.R.O 71(1)/2002. It reappeared as Millat-e-Islamia Pakistan (MIP) and was again banned on 15th November 2013 via S.R.O 1037(1)/2003. Its current and most known manifestation is in the form of Ahl-e-Sunnat Wal Jamat (ASWJ) which was also banned via S.R.O. 257(1)/2012 on 15th February 2012.
Proscribed persons, such as Ludhianvi, require prior written approval from the local police station of their designated area to move outside that area or go to any public place or enter any educational institutions where people under the age of 21 years are studying or training. As active members of a banned outfit the government is required to seize their passports and prevent them from travelling abroad. The inference drawn here is that the government deems people like Ludhianvi a threat to peace and public order and clearly a bad influence on young minds.
Since a banned outfit cannot register with the Election Commission of Pakistan (ECP), Ludhianvi filed his nomination papers as an independent candidate. Rejection of Ludhianvi's nomination papers due to him being a proscribed person would appear a natural consequence but only the contrary is true.
There are no clear and specific instructions from the Ministry of Interior or the ECP which would declare nomination of a proscribed person void by default. Hence it comes down to either the Returning Officer being proactive or for a voter of the constituency or a contesting candidate to file objections to such a nomination. In a place like Jhang and against a man like Ludhianvi, both filing an objection and rejecting the nomination means putting your life in grave danger. So the state has put its entire machinery to rest and is expecting a R.O. with inadequate protection and ordinary citizens to prevent militants from contesting elections and reducing the legal system to a joke.
Hence, it was no surprise that it took a candidate like Sheikh Sheraz Akram to come forward and file objections in front of the Returning Officer (R.O.), Tanveer-ul-Hasan. Sheraz is the son of the area's MNA, PML-N member Sheikh Mohammad Akram, who carries considerable political clout in Jhang and is an old rival of ASWJ. Sheraz's application not only notified the R.O. that Ludhianvi is a proscribed person and head of a banned outfit but also lists up to 11 FIRs in which Ludhianvi has been nominated which included charges ranging from murder to terrorism. It has been reported that in three of those cases, Ludhianvi has been declared a proclaimed offender by Court.
However, the R.O. disappointingly, but not surprisingly, dismissed Sheraz's application claiming it to have "no merit" and in violation of Section 14(4) of the Representation of Peoples Act 1976 did not even give reasons for same. The actions of the R.O. though deplorable are understandable. In 2013, Ludhianvi contested NA-89 against Sheraz's father. According, to Sheraz's brother Sheikh Waqas who is a fomer MNA himself, the R.O. serving at that time wrote a letter to the Lahore High Court's Registrar demanding more security as he claimed that he was getting threatening calls from Afghanistan and Waziristan asking him to announce the election results in favour of Ludhianvi.
After having his application dismissed by the R.O., Sheraz was scheduled to argue his appeal in the Lahore High Court before Justice Muhammad Qasim Khan and Justice Shahid Waheed. However, due to unknown reasons Justice Shahid Waheed excused himself from the tribunal creating a more alarming and uncertain situation. As per the election schedule the tribunal had to decide appeals latest by 8th November (today) but the tribunal needs to be constituted of two judges for it to proceed.
Here it is important to highlight that radicals like Ludhianvi may need to terrorize election officials but they don't necessarily need to scare voters to vote. Ludhianvi is not a delusional fool nor is he running just to make a statement. Ludhianvi got more than 45,000 votes when he contested NA-89 in 2013. For those who may think the NAP would have dented Ludhianvi's hopes can view his speech on 28th October at ASWJ's rally in Islamabad which was live streamed on Facebook by the outfit. Section 144 was in place that day, the authorities were cracking down on workers of legitimate political parties like the PTI and AML but ASWJ's rally went ahead uninterrupted attended by thousands and all facilitated by the local police in a shameless and gross violation of the ATA.
Last year ASWJ in order to get its demands met laid siege on the Supreme Court in Islamabad and the Sindh Chief Minister's House in Karachi but not a single one of their members were arrested for doing so. How did ASWJ gather this much clout?
ASWJ/SSP has had political aims since its inception in 1985. Haq Nawaz contested NA-89 Jhang in 1988. He lost the elections but since then several members of the ASWJ/SSP have been elected to the National and Provincial assembly with two of them, Riaz Hashmat and Sheikh Hakim Ali, even becoming provincial ministers in Punjab in the mid 90s under the Government of Muslim League – Junejo.
SSP claims to follow the Sunni Deoband school of thought and is engaged in targeting of Shia Muslims, indulging in hate speech, fanning sectarianism and has also been involved in killing of Shias. The reason SSP has contested elections is not just to give their workers political cover but because it has a publicly declared manifesto of amending the Constitution of Pakistan to declare Shias as infidels under same.
The government's inaction against the activities of SSP gave birth to a Shia militant organization in 1993, the Sipah-e-Muhammad Pakistan (SMP), formed by Ghulam Raza Naqvi, who till then served as the Jhang President of Tehreek-e-Jafaria Pakistan. The clashes between SSP and SMP resulted in hundreds of deaths.
The most hardened and known terrorists from SSP, whose association with the outfit appeared to hinder its political ambitions, formed a separate but affiliated entity in 1994, the Lashkar-e-Jhangvi (LeJ). As LeJ's former head Malik Ishaq once commented "LeJ was a party of proclaimed offenders." LeJ named after the founder of SSP is by far the most lethal terrorist outfit which has carried out massive attacks on citizens, politicians and military personnel but has primarily targeting Shias.
The SMP for most part was made defunct in 1996 when a heavy contingent of police raided its headquarters in Thokar Niaz Baig, Lahore and Naqvi was sent to jail. According to ARY News, Naqvi who was released in 2014 was killed in March this year on Taftaan border by firing of Irani border forces.
The only reason police was able to penetrate Thokar was because Naqvi had been accused of killing a prominent fellow Shia leader, Murad Abbas Yazdani, resulting in him losing popular support. An earlier Police raid in Thokar in December 1994 was thwarted by the ordinary residents of the area. The residents' resistance spoke of how unprotected the Shias in Thokar felt in the face of government inaction against SSP and LeJ and had seen SMP as some sort of a defence mechanism. That sense of insecurity continues till today and with good reason. It has led to ghettoization of Shias in form of Alamdar Road and Hazara Town in Quetta and House Societies like Rizvia 1, 2 and 3 in Karachi.
In 1997, the then PML-N government, with different priorities from now, attempted to take on the militants. The government enacted the Anti-Terrorism Act 1997 under which special courts were set up where a lesser burden of proof lay on the prosecution for speedy trials and easier convictions for terrorists. However, in absence of adequate protection of judges, prosecution and witnesses, a problem we still face, the ATA courts didn't prove effective. Rather than strengthening the courts, PML-N resorted to street justice killing 36 SSP and LeJ members in encounters. The LeJ responded with two attempts on Prime Minister Nawaz Sharif's life. It was during this time that SSP and LeJ strengthened their alliance with Harkat-ul-Mujahideen (HuM) in Afghanistan seeking refuge at their camps.
In the aftermath of 9/11 pressure grew on General Musharraf to take action against terrorists. In 2002, Musharraf banned SSP and several other organizations claiming "No organization is allowed to form Lashkar, Sipah or Jaish", but the same appeared to be an exercise on paper to appease our western allies. The dictator allowed these outfits to continue to oil the jihad machinery to meet the military's disastrous aims of strategic depth.
A ban under ATA on an organization means that its offices are to be sealed, its literature seized, all of its public engagement activities are to be suspended, arms licenses of it workers are to be rescinded and passports of its active members are to be cancelled. Any violation carries a prison sentence.
However, despite banning SSP, Musharraf allowed its then head, Azam Tariq, to contest for the National Assembly in October 2002 and used his help and vote to get Mir Zafarullah Jamali get elected as Prime Minister.
In 2008 all major political forces including the PML-N embraced this dangerous trend of aligning with banned outfits helping these outfits gather genuine street power with members which have far little fear of law and much less concern for life than ordinary political workers.
In an interview given to Gharida Farooqi on Samaa TV, the then General Secretary of ASWJ, Khadim Hussain Dhilon, revealed that Shahbaz Sharif and Javed Hashmi sought their support in 2008 on PML-N's ticket. Shahbaz Sharif in fact formed an official alliance making the ASWJ Bhakar President, Abdul Hameed Khalid, withdraw in his favour helping Sharif win the by-election in Bhakar unopposed on his way to becoming Punjab's Chief Minister.
In addition 25 MPA and MNAs of Pakistan People's Party (PPP) including former Chief Minister Sindh Qaim Ali Shah, Shah Mehmood Qureshi, Kamaruz Zaman Kaira, Jamshed Dasti, Nazar Gondal and Manzoor Wassan as well as former Chief Minister KPK Ameer Haider Khan Hoti of the Awami National Party also sought and got the support of ASWJ in order to secure their wins in 2008 according to Dhilon.
By 2013, ASWJ was not only forming alliances, but making its own members contest elections under a new and purpose built political party Muttahida Deeni Mahaza (MDM) which was headed by Sami-ul-Haq of JUI-S. The MDM fielded at least 40 candidates from the ASWJ all of whom featured on the fourth schedule of the ATA. Aurangzeb Farooqi, who is the second in command after Ludhianvi, contested from PS-128 in Karachi getting more than 21,000 votes and losing only by a little over 2,000 votes, a margin which he reduced to a little over 200 votes in the by-election in 2015.
People's Aman Committee (PAC) and MQM workers clashed in Karachi while ASWJ negotiated its co-existence with both of them. ASWJ's Karachi President, Taj Mohammad Hanfi, performed Dastaar Bandi of PAC's head Uzair Baloch whereas an MQM delegation met with Aurangzeb Farooqi at ASWJ's headquarters in Karachi in March 2013. Hanfi who was arrested on Sunday on suspicion of being involved in sectarian violence has also been cleared by the ECP to run for the National Assembly from NA-258 in Karachi on 24th November this year.
Around that time, Ludhianvi was more vocal about distancing himself from LeJ in his attempt to allow ASWJ to become more mainstream. However, in February 2013, the then Interior Minister, Rehman Malik, claimed that LeJ was divided into two factions with one headed by Malik Ishaq and the other operating under Ludhianvi. ASWJ and LeJ nexus became evident when Ishaq was made Vice President of ASWJ after his release from jail in 2014.
In June 2015, Ishaq along with 13 other militants was killed by the police in an encounter. Ishaq was in police custody at the time. Not much changed since 1997. The ATA courts are still ineffective and PML-N is still opting for street justice.
Ludhianvi, focused on the bigger picture, distanced ASWJ from Ishaq completely and did not even offer a word of condemnation for the killing of his outfit's former vice president.
It wasn't long before PTI also joined this trend of questionable alliances with its members being unapologetic about it. In March 2015, PTI's Barrister Salman Mehmood, held a press conference to announce the party's alliance with ASWJ for the Mirpur by-election which he later went on to win. In the Haripur by-election in August 2015 for NA-19, PTI's Dr. Raja Amir Zaman even published an ad titled "izhaar-e-tashakkur" in a local newspaper thanking ASWJ for supporting him. In October 2015, a PTI delegation met with Taj Hanfi at ASWJ's Central Office in Karachi.
In the local body election in 2015, ASWJ formally launched activities of its new political front, Pakistan Rah-e-Haq Party. PRHP was registered by ASWJ's former provincial head, Muhammad Ibrahim Qasmi, in February 2012 shortly after ASWJ was banned. PRHP and ASWJ turned out to be the most flexible and astute political force as it successfully aligned with PMLN, PPP, PTI and JI all across Pakistan ending up with substantial influence on the local governments. In Karachi alone, PRHP along with its allies bagged 49 seats.
The most appalling political alliance however took place back in Jhang itself. In pursuit to defeat its old rival family, the Akrams who belong to PML-N, the ASWJ through PRHP formed a public alliance with Asad Hayat brother of Makhdoom Faisal Saleh Hayat. Not only is Faisal Saleh Hayat a former federal minister but he is also the Sajjad-a-Nasheen of one of the most influential Shia political clans of Jhang, the Shah Jewna. Shah Jewna is one of the main clans to counter whom Haq Nawaz Jhangi had founded SSP in Jhang. The alliance was made possible by father of then PML-N MPA, Rashida Yacub.
ASWJ's alliance with a Shia political family should make it clear to us that it will leave no stone unturned to become a mainstream political force taking advantage of the short-sighted, hypocritical and self-serving interests of the actual mainstream political forces.
It is not just local, provincial and national issues but ASWJ through outfits like the Difah Pakistan Council (DPC) is aiming to become a stakeholder in Pakistan's foreign policy as well. For the past several months, the DPC has been holding rallies on Kashmir, CPEC, relations with Iran and the the Saudi Arabia-Yemen conflict. Moreover, Ludhianvi's nominations paper reveal that he himself has travelled to South Africa in 2013 for "tableegh" and has been to Saudi Arabia five times in the last three years citing pilgrimage as the purpose of visit. However, while in Saudi Arabia he has attended conferences organized by the Muslim World League (MWL). MWL is a Saudi backed organization known to fund the state's militant version of Islam in seminaries abroad.
In the DPC, ASWJ doesn't only get patronage from political forces like JUI-S, Sheikh Rasheed's AML and JI but has enjoyed considerable support by one of the founding members of DPC and former head of the ISI, the late General Hamid Gul.
Today despite repeated protests by civil society organizations and activists, the government allows ASWJ to administer several madrassahs across the country, has numerous chapters in all provinces, regularly stages rallies and holds conferences and publishes a weekly newspaper. They have allies ranging from mainstream political parties to militant outfits like Jamat-ud-Dawa, HuM, the Taliban, Haqqani Network and the Lal Masjid Brigade. They were officially recognized as stakeholders in our internal security as Rangers in Sindh and Police in KP consulted them over the security plan for Muharram. Not many things could be more ironic than that.
Its leader, Ludhianvi, doesn't hide in the mountains or takes refuge in caves. Instead, he roams freely on the streets of Islamabad with armed personnel, has interviews with the national press and dictates the Interior Minister into reviewing his actions against him such as suspending CNICs of persons on the fourth schedule.
We can present the argument to the growing followers of Ludhianvi and Hanfi that they are militants or radicals but to them they are religious activists and political leaders. They are seen as such because our political forces and military have treated them as such. Very soon both of them may also become Parliamentarians, a haunting reality which we won't be able to reconcile even with ourselves.
Let us see if any political party will appear to have clarity of thought and equal conviction in taking back political space back from these militants.