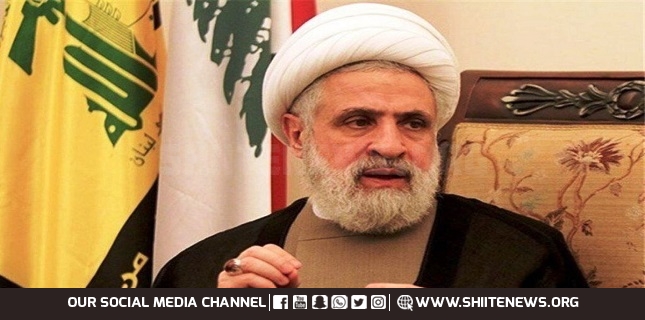 A high-ranking official with Lebanon's Hezbollah says the popular resistance movement is in a state of war with Israel, calling on Muslim world and Arab countries to do more for Palestinians in the besieged Gaza Strip than just delivering food.
Sheikh Naim Qassem, Hezbollah's deputy secretary general, made the statement in a ceremony in the Lebanese capital of Beirut on Tuesday as the Israeli regime's brutal onslaught on Gaza has so far claimed more than 13,000 innocent lives.
"Hezbollah is an integral part of the resistance in the region and is in a state of war with Israel," Sheikh Qassem said, adding, "Israel aims to terrorize Palestinians and force them to abandon the resistance by massacring the people in the Gaza Strip."
Stressing that the Israeli regime seeks to crush the Palestinian resistance movement Hamas, the Hezbollah official said, "The Arab and Islamic countries must contribute, even a little, to disturbing and hurting the occupation as providing supplies and food to the people of Gaza is not .. enough to exonerate them."
Sheikh Qassem said there was information indicating that the Palestinian resistance groups in Gaza are "able to withstand for a long period of time," adding, "The resistance's victory will be achieved through the occupation's inability to achieve its goals."
The Hezbollah official underlined, "As long as the aggression against the Gaza Strip continues, there exists the possibility of the persistence of war, and all possibilities depend on the developments on the ground."
The deputy secretary general of Hezbollah also pointed to the recent operation carried out by the Yemeni Armed Forces south of the Red Sea, during which an Israeli ship was seized and its entire 52 crew members onboard were detained.
Sheikh Qassem hailed the operation as a "courageous act" and stressed that it was "the beginning of a very big blow that will affect the Israeli economy."
Hezbollah has reportedly fired more than 1,000 rockets, mortars, missiles, and drones at Israel since October 8, a day after the besieged Gaza Strip came under heavy shelling by the occupation regime.
In early November, Hezbollah Secretary General Sayyed Hassan Nasrallah said all options were on the table against Israel, urging the Zionist regime to stop its aggression against Palestinians in Gaza immediately.
Israel unleashed a bombardment campaign against Gaza on October 7, after the Palestinian resistance groups launched Operation Al-Aqsa Storm in response to decades of violence against Palestinians.
According to the Gaza-based health ministry, at least 13,300 Palestinians have been killed in the strikes, most of them women and children, and injured around 31,000 others.