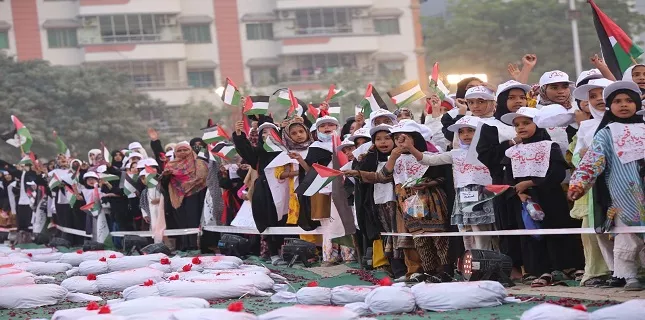 Shiite News: More than 10,000 children wore shrouds (kafans) in Nishtar Park organized by Supporters of the Oppressed Palestine Pakistan and expressed their sympathy and renewed commitment to Palestine.
In which thousands of people including a large number of women, children, elderly people and students of schools participated, regardless of religion and creed and all kinds of political affiliations.
A large exhibition was also organized under the title of atrocities on the oppressed Palestinians, which remained a special focus of public attention.
Addressing the meeting, the well-known religious scholar Allama Amin Shaheedi said that now is the time for the United Nations to be strict against the atrocities of America and Israel. Take action or history will never forgive them.
Speakers included Allama Nazer Abbas Taqvi, Allama Sadiq Taqvi, Allama Aqeel Musa, Allama Haider Abbas Zaidi, Allama Nusrat Abbas, Sardar Mengal Singh and others also participated.
Thousands of children renewed their vows with Palestinian children in Nishtar Park. Innocent children were expressing solidarity with the oppressed Palestinians.
Allama Sadiq Raza Taqvi took a pledge from the children. The passion of the children was visible. They made the Imam of the time as a witness and pledged that you are not alone, O Palestinians.