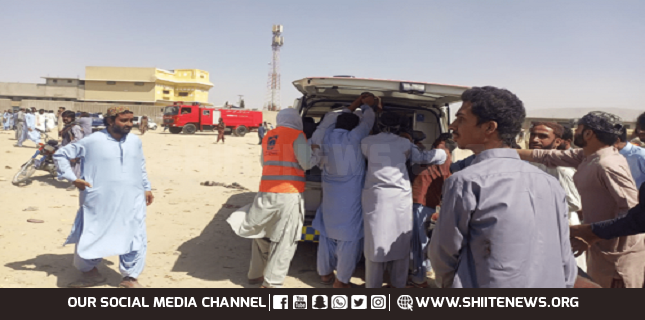 At least 50 people, including a senior police official, were killed when a suspected suicide bomber blew himself up near a procession commemorating Eid Miladun Nabi (PBUH) in Balochistan's Mastung district on Friday, confirmed police.
Police officials confirmed that DSP Mastung Nawaz Gishkori was among those killed. Secretary Health Balochistan Asfandyar Khan Kakar said at least 100 people were injured in the attack.
Officials expressed fear that the number of casualties may increase.
According to Mastung's assistant commissioner, the blast took place near Al-Falah Mosque, where people were gathering to participate in the procession.
The area was cordoned off by law enforcers and rescue personnel shifted the casualties to nearby medical facilities. Emergency has also been declared in hospitals and staff has been instructed to report to work immediately.
Balochistan's interim Information Minister Jan Achakzai said rescue teams have been dispatched to Mastung and those seriously injured in the attack are being shifted to Quetta. The minister also condemned the blast.
Security forces on alert
Following the bomb attack in Mastung, Karachi Police stated that police will remain "completely on high alert" on the directions of Additional Inspector General Khadim Husain Rind.
The senior police official ordered the force to tighten security measures to safeguard Eid Miladun Nabi events and processions across the city.
The Punjab Police also said the force was diligently protecting all religious events and Friday prayers to safeguard the citizens.