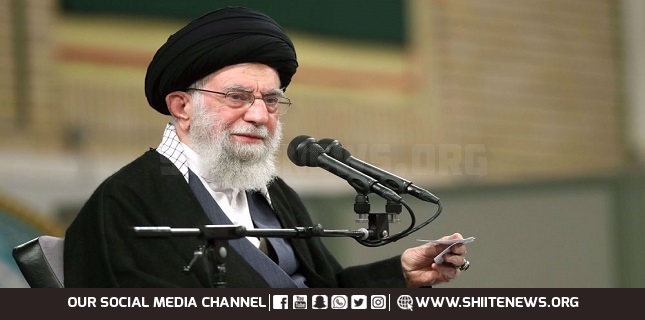 Leader of the Islamic Revolution, Ayatollah Seyyed Ali Khamenei, has offered condolences to the people of Syria and Turkey, who have been grappling with the aftermath of Monday's devastating earthquake.
In a speech on Wednesday in Tehran, Ayatollah Khamenei assured Iran's continued help and assistance to the quake-hit people in the two countries.
He said the Islamic Republic of Iran was saddened by the humanitarian catastrophe caused by the devastating magnitude 7.8 earthquake that hit the region in the wee hours of Monday, followed by a series of high-intensity after-shocks.
More than 9,000 people have so far been killed in the two countries, and in freezing temperatures the death toll is likely to mount.
"We are sorry to hear what happened to our brothers in Syria and Turkey. We pray that the souls of the victims rest in peace, and we ask God to grant their families patience," the leader said while addressing a gathering of military officials.
"We have also been inflicted [with earthquakes] and know what it is like. When an earthquake hits and beloved ones are killed, it is such a bitter and sad experience. We can feel their pain," he hastened to add.
The leader reiterated that the Iranian officials have helped [the inflicted people of Syria and Turkey] and they will continue to help the two neighboring countries.
On Tuesday, the first Iranian plane carrying humanitarian aid landed at Damascus International Airport to help the quake-stricken Syrian people.
Iran's Ambassador to Damascus Mehdi Sobhani, who was present at the airport, said Tehran would send more planes carrying aid relief to Syria.
On Monday, Iranian President Ebrahim Raeisi extended his condolences to his Turkish and Syrian counterparts, Recep Tayyip Erdogan and Bashar al-Assad, in separate calls over the tragic loss of lives in the earthquake and promised his country's help and assistance.
Also on Tuesday, Iran's Foreign Ministry spokesman urged the different countries to exert pressure on the US government to lift the cruel siege of Syria so that international humanitarian aid can be delivered to the quake-stricken people of Syria without any obstacles in the shortest possible time.