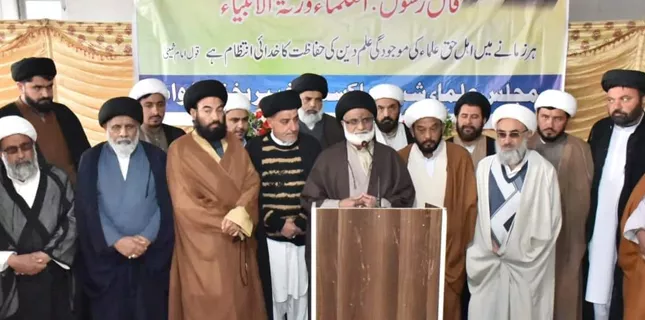 Shiite News: A seminar was held in Kohat under the auspices of Majlis Ulemaa Shia Pakistan, in which the Ulemas of Kohat and Hangu participated.
In the seminar organized in the center of Kacha Pakka, the central president of Majlis Ulema Pakistan Allama Syed Hasnain Abbas Gardezi, Allama Syed Samar Abbas Naqvi, central leader Allama Syed Abdul Hussain Al Hussaini, MWM provincial president Allama Jahanzeb Ali, senior religious scholar Allama Khursheed Anwar Jawadi, Allama Syed Amir Haider Shamsi, Allama Syed Qaiser Al Hussaini and others participated.
Addressing the press conference, Allama Syed Hasnain Abbas Gardezi has said that we completely reject the controversial Criminal Amendment Bill 2021 passed by the National Assembly and demand the officials of the state not to approve any such bill.
Allama Khursheed Anwar Jawadi said that political and economic instability is increasing day by day in the country, there has been a heinous act of destroying social order by launching this communal bill under a well-thought-out plan.