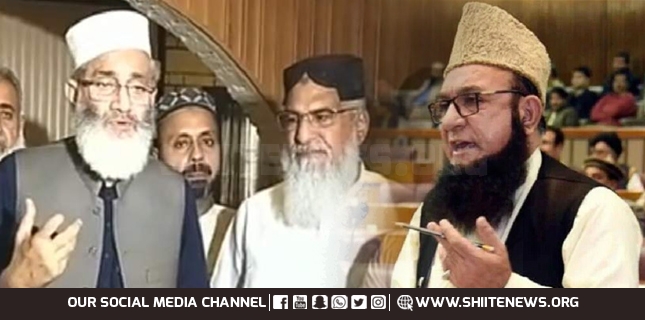 Shiite News: Conspiracies of inter-religious discord in Pakistan have been going on for 3 decades by pro-Saudi Takfiri Wahhabi terrorist organizations, but alas, now the claimant and representative of Nizam Mustafa, a Deobandi organization Jamaat-e-Islami, involved in this dirty campaign.
Maulana Akbar Chitrali, a member of Jamaat-e-Islami, is credited with presenting the extremly controversial Bill in the National Assembly for the promotion of communal hatred, religious extremism and terrorism in the beloved country.
According to the sources, this Criminal Act 2021 Amendment Bill, which has been approved by the National Assembly in recent days, has been unsuccessfully tried to get it passed by the National Assembly and Provincial Assemblies many times before, but the awakened Shia and Sunni members of different parties not allowed it.
Last year in the Punjab Assembly, Muslim League-Q member Hafiz Ammar Yasir also tried to get passed the bill titled "Tahafuz-e-Bunyad Islam" by the Punjab Assembly along with Muaviya Azam, a member of the outlawed Sipah Sahaba, but failed.
While the same Muaviyah's father, Azam Tariq malhoon, insolent of Imam Mahdi (a.s.) had also made a sinister attempt to get such a seditious law passed by the National Assembly in the name of "Shariat Bill" during Benazir's regime.
It is worth noting here that this time this bill was not presented on behalf of any Takfiri terrorist group but by Akbar Chitrali, a member of Jamaat-e-Islami, which declares itself as an enlightened Islamic party, on behalf of the outlawed Sipah Sahaba.
Surprisingly, this process proves that there are some elements in Jamaat-e-Islami too who want to incite communal riots in the country like the outlawed Sipah Sahaba and Tehreek-e-Labaik and they want the country's street people to blaspheme.
The purpose of such elements is to declare the enemies and murderers of the Prophet and the Ahl al-Bayt of the Prophet, especially the Umayyads, the Banu Abbas and the Marwans, under the guise of the sanctities of the Ahl al-Sunnah, to be respected and venerated by all Shias.
In the context of historical events, describing the character of these personalities is to be considered an insult and criticizing them is to be made a criminal offense punishable by 2 years or life imprisonment.
Unfortunately, our state and its powerful institutions are pursuing the agenda of making Pakistan a religious state in which elements like Akbar Chitrali are driven as their tools.
The members of the Senate and the lower house of the National Assembly must block the way of this controversial law, which calls someone "insolent" to be killed or imprisoned, because the easiest thing to do in Pakistan is to call one's opponent "insolent" and kill him, of which we have various examples. are present in the country.