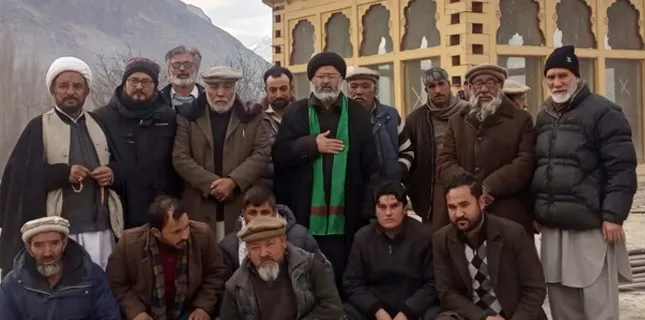 Shiite News: Provincial President MWM Gilgit-Baltistan Agha Syed Ali Rizvi along with his delegation visited Ganche for one day.
During the visit, participated in religious, political and various other programs. He gave a special address to the Majlis organized on the occasion of the martyrdom of Hazrat Fazma Zahra (a.s.).
The delegation also visited the central Khanqah-e-Ma'ala Bala Naqim, where the members of the Khanqah Committee warmly welcomed Agha Ali Rizvi and his delegation.
On this occasion, former member GB Assembly Muhammad Iqbal, Ghulam Nabi Social Welfare Officer, Subedar Bilal, contractor Ahmed Ali, Abdul Rahim, Haji Shakur, Master Shakur, Muhammad Yusuf, Ghulam Muhammad and Ehsan Ali and other welcomed Agha Ali Rizvi and his delegation.
Mohammad Iqbal, while visiting the monastery, said that Agha Ali Rizvi is not only the leader of the Shias, but also our elder and leader.
In the construction of the main monastery (Khanqah) of Maula, where the Noorbakhshi community cooperated, the Shia community from Siachen to Karachi contributed.
Talking on this occasion, Provincial President MWM Agha Ali Rizvi said that I felt spiritual satisfaction today by visiting the main Khanqah-e-Maula, with the love of all of you, unity among Muslims will be promoted in Baltistan.
We will continue to meet in the future. In the delegation of MWM, including Agha Ali Rizvi, Allama Sheikh Ghulam Hussain Johari, Deputy Imam of Friday and Jamaat Jama Masjid Fatima Al-Zahra, Sheikh Kazim Sarwar, Kachu Zahid Ali Khan, Member of Central Shura, Agha Syed Hadi, Member of Organization, Agha Zamani, Social Media Activist. , Kachu Akhtar, Agha Syed Athar, Wazir Isa Khan and Brother Habib were included.