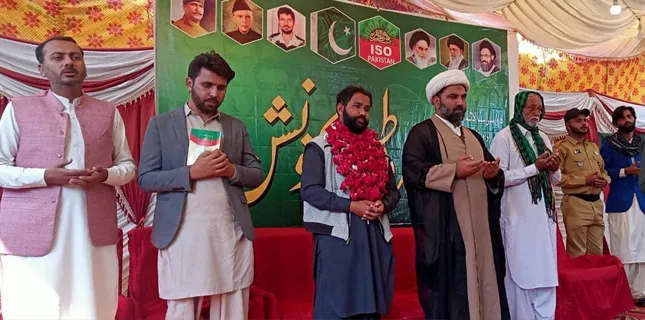 Shiite News: Imamia Students Organization Nawabshah Division organized a divisional national convention in Shah Dadpur.
Addressing the Divisional Tameer-e-watan Convention, Majlis Wahdat Muslim Pakistan Central Secretary Organization Allama Maqsood Ali Domki said that reform of the system is necessary for building the nation and building humanity.
The system of Wilayat and Imamat is the guarantor of the welfare of humanity. Wilayat is the soul of religion. Holy Quran is a complete system of life. Which invites us to come under the guardianship of Allah while preventing us from obeying 'Taghut' (Arrogant).
He said that the movement and thought of Naib Imam Hazrat Imam Khomeini in this era is a beacon of light for the people of truth.
In the current era, Hazrat Imam Khomeini (may God bless him and grant him peace) stood up against the world of disbelief and established an Islamic government in the light of the Qur'an, Sunnah and the life of the Ahl al-Bayt (peace be upon him).
The exaltation of God's religion is the goal of the Islamic revolution.
He said that followers of 'Khat-e-Wilayat' (path guided by Imam Khomeini RA) are confronting Yazidis. Today, the global revolutionary movement is creating a new history of perseverance against the arrogance of the world.
On this occasion, he announced the new Mir Karwan Baradar Syed Seerat-e Abbas Shah of ISO Nawab Shah Division.
ISO Central Representative Brother Saqlain Haider administered the oath to the newly elected Divisional President.