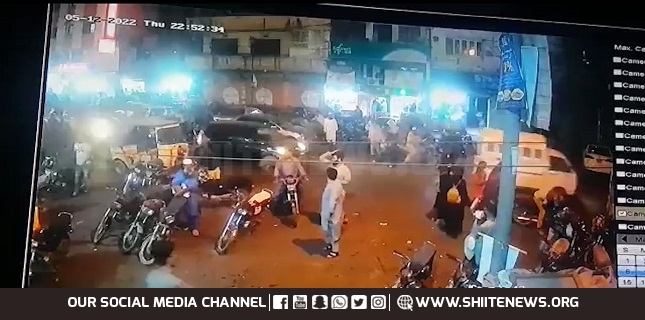 At least one person was killed and over a dozen others sustained injuries in a blast in Karachi's Saddar area Thursday night.
Among the 13 injured, four are stated to be in critical condition.
A vehicle of the Pakistan Coast Guards was passing through the area at the time of the blast and was also damaged as a result.
Emergency has been declared at the Jinnah Hospital and the injured are being provided with the treatment.
Meanwhile, Information Minister Sindh Sharjeel Memon said the incident is being investigated.
According to DIG South, the explosives were likely planted on a cycle near a busy supermarket in Saddar.
Hospital sources said those injured sustained wounds from ball bearings used in making the explosives.
Law enforcement agencies are investigating the incident further to ascertain facts. Heavy contingents of Rangers and police as well as a team of the Bomb Disposal Squad have reached the site.
According to Deputy Inspector General (DIG) Police Sharjeel Kharal, the explosives were planted on a cycle. He added that the deceased was identified as Umer Siddiq and worked at the Jinnah Hospital.
Commenting on the incident further, the official said that the incident seemed an attempt to disrupt the hard-earned peace in the city.
In view of the situation, Chief Minister Murad Ali Shah ordered that an emergency be declared at the Civil Hospital and the Jinnah Hospital, and told the staff to ensure the best treatment to those injured.
He also issued directives to the LEAs to probe the incident from all angles and extend assistance to those present at the site.
Federal Interior Minister Rana Sanullah has assured all possible assistance to the provincial government to probe the incident.
He also expressed remorse at the death in the incident and prayed for the early recovery of those injured.
The blast comes nearly two weeks after a female suicide bomber killed four people – including three Chinese nationals – outside the Chinese language centre inside the Karachi University.